Wondering what's it like to teach English in Taiwan? Awesome. I was there once, then later some other countries and now I am here to tell you about it.
I'll be doing some comparison to some other Eastern Asian countries like Korea, Japan and China.
"What do you like about Taiwan? Everything that England hasn't got. We've got great weather. It's a good lifestyle. It's a really easy lifestyle. You work 5 or 6 hours a day max and you have weekends and evenings free. You can have a..."
You'll hear more from Dale later...
The teaching scene in Taiwan
Requirements: Usually a 4 year degree & native English speaker, some schools may prefer experience, teaching licenses, TEFL certification, etc. More on the requirements to teach English in Taiwan
Average salary: $NT600 an hour/$NT50,000-60,000+ ($1,550-1,900) a month
Cost of Living: Medium, similar to Korea
Housing: Not free or usually included
Teaching hours: 15-25 a week
Airfare: No
*These are just averages expect differences between institutions
It's easier going than Korea or Japan
To generalize a bit I'd say that the teaching scene in Taiwan is a bit more easy going. Schools typically have shorter work hours in Taiwan compared to Korea or Japan.
Of course you could find a forty hour a week job (like in a public school), but it's quite likely that you could find a visa from a school working less than 20 hours a week (both of my contracted jobs).
There are lots of jobs advertised like that in Taiwan.
If you want to work more then you can get another part time job.
It might not only be the work it could be the weather too. Maybe the heat slows people down a bit and gives it a bit of the Southeast Asia vibe.
Most "exotic" in East Asia
From the unearthly Dragon Fruit and the Yen Shui Fireworks Festival (where people charge headfirst into fireworks) to the Bin Lang Xi Shi (sexy showgirls who prepare and sell betel nut), you'll feel like you're in a different land here.
The Tropic of Cancer runs right through Chiayi, Taiwan. The environment here is tropical like and you'll find the weather to be hot and humid. The north of the island is much wetter than the central and southern part of the island.
Instead of snow days, here you'll have typhoon days.
Roughly one third of Taiwan is urban, very urban and populated. Over 23 million live in an area the size of Maryland and Delaware. That third is pretty much plains and the other two thirds are a different story.
Outside the urban third...
You'll find mountains nearly 12,000 ft. tall, hot springs and some nice beaches in the very south and on the beautiful east coast of Taiwan.
It has incredible fruit
You'll find a wonderful selection of exotic fresh fruit in Taiwan. Dragon fruit, lee chi, wax apple, longyan, guava, mango, papaya, and many more wonderful fruits.
It's vegetarian friendly
If you're a vegetarian then you might like it here best. You'll find many vegetarian restaurants that cater to Taiwan's large Buddhist population. There's no meat here, although you will find many things that look like it.
There's no garlic or onions neither, and the food is still quite tasty. I'd say that it's the best place for vegetarians in Asia.
Cough cough... It's polluted (the western half of it)
This is the downer about Taiwan.
The western plains of Taiwan are pretty densely populated and all these people contribute to pollution which is mainly because there are millions of scooters in Taiwan.
They are convenient and fun to own, but unfortunately many are two strokes and contribute greatly to air and noise pollution.
Is the public transportation good?
I didn't think so, but I didn't live in Taipei. Taipei has a good metro and Koahsiung has a small one although it might be better now since the last time I was there was 2009 or so.
I lived in Tainan and Taichung and I didn't think it was good or easy. My first year I rode a pedal bike around in Taichung, but the streets aren't that fun because they are full of cars and scooters and basically you have to watch out for them since you are like a minnow.
And the scooters are the fish, and the cars are the sharks, and the buses are the whales.
So that's how a friend explained it to me once.
There were buses to get around Taichung, but they weren't that easy for me to find or use with limited Chinese and there was no subway although I heard back then that there were plans to make one. In Tainan the buses were similar and not that easy for me to get around in, but I had a scooter then.
If you are in a major city or have a scooter then it's probably o.k. Although the traffic can be nuts.
Getting around Taiwan is a different story.
There are trains and great intercity buses. There is a fast train in some places or that runs from Taipei to Koahsiung and then slow trains that run all over.
Great intercity buses
If you go to Taiwan make sure you try the green Free Go bus. You can travel between cities in Taiwan on a bus with large comfortable chairs while watching movies.
It's very nice! And it's cheap too.
They say it's friendly
Taiwan actually could be more friendly to outsiders compared to a place like Korea or Japan. It's a pretty welcoming place, but to be honest I definitely had moments where I didn't think so and that's just part of the cultural experience.
Anyways...
I remember soon after I arrived, there was one night when I was out looking for a laundromat.
I happened to bump into a group of teenage girls on the street and I asked them where I could find a laundromat. They said there wasn't one around and then one of them said she could help.
She took my laundry home to her house to wash and then brought it back.
How's that for friendliness?
As a foreigner you'll definitely get some special treatment at times and then at other times not so much.
An English teacher in Taiwan talks: language, relationships, money, food & difficulties
Here's an interview with my friend Dale in Taichung, Taiwan. In this video I also add my 2 cents on some of the topics based on my experience teaching in Tainan and Taichung.
Chances are you will teach
kids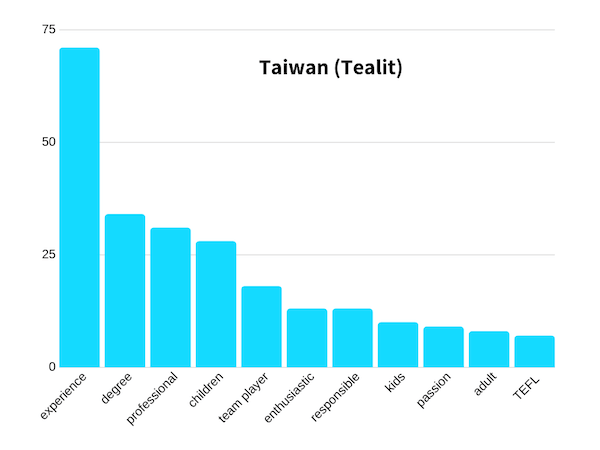 This graph was taken from what employers want (in Taiwan). Most jobs there are for teaching children (80% according to the above data). Teaching children is challenging and you need a certain skill set to do so well.
This course (TEKA) provides specialized training for teaching children.
My Experience
Taiwan was the first place that I went to in Asia. I lived there for two+ years. I like Taiwan and I have some good memories from there. I found people to be pretty friendly.
What got to me there was all the noise and pollution mainly from scooters.
If I was to go back I would go to either Taipei or somewhere on the beautiful east coast.
I first lived in Taichung and then later moved to Tainan. Taichung is the 3rd largest city and kinda like a mini version of Taipei.
Tainan is a bit different. It's the 4th largest city. It's less cosmopoliton than Taichung, more laidback and historical. I probably preferred that to Taichung.
Who & where I taught
I taught mostly kids. I taught in kindergartens and buxibans. I also did some subbing at a lot of different schools which included adults and even at a public high school and an elementary school.
My bosses were o.k. They paid on time. One was a bit dodgy and was deducting tax money, but not paying into my refund. Come tax season my new employer helped me get it back.
My other boss was a single woman who owned a small cram school in Koahsiung county.
What kind of school will you work in?
If you are not a licensed teacher you will probably be working in what is called a buxiban, cram school or private language institute. These are after school programs and teachers often work in the afternoons and evenings in these (for example, 3-9pm).
Most of these focus on teaching elementary school aged students. There are also kindergartens and some of those have daytime work hours where you work in the morning with kindergarten kids and in the afternoons with elementary kids.
These may have hours that are from 9-11am and 1-4pm. Sometimes you get a lunch break for 2 hours.
There are also some language schools for adults, but these are less common.
If you are a licensed teacher you can teach in a public school in Taiwan. These positions are working from about 8-4 or so.
FAQ
When is the best time to look for a job in Taiwan?
Unless you are a licensed teacher it doesn't matter. Buxibans hire year around and they are not on any sort of semester system.
Who will I teach?
You can teach whoever you like: adults, teens, elementary or kindergarten. There are different kinds of schools, but if you are not sure then chances are you will teach mostly children.
How do you actually teach English in Taiwan?
Good question.
The teaching is the hard part. Here's a course that will teach you how to teach English in Taiwan. Most schools will provide very little training so you are on your own.
What are interviews in Taiwan like?
They can be like any other type of interview, however they can be really uncomfortable as most schools will want you to do a teaching demo for 10-15 minutes. For that you can take a segment of the lesson and they will often give you a book to use. Then teach a bit from it, drill it and use a game/activity.
Do schools provide housing?
Not usually. Some of the schools that hire from abroad do this, however most of the schools in Taiwan will not provide housing. This is more common in China and Korea. The school may offer you some assistance though and there are websites like Tealit.com that have classifieds.
You can also check local agents in Taiwan.
Is housing expensive in Taiwan?
Not really. I think the cost of living in Taiwan is relatively cheap, yet it depends. When I lived there I paid just over $200 for a studio in Taichung and then just over a $100 for a room in Tainan. That was in 2004-2006 so things may have risen a bit and in Taipei you'll pay more.
Do I get much vacation?
Nope, unless you work in a public school. Otherwise you'll get public holidays off.
How many days a week will I work?
It depends on the school, but working Saturday mornings is common in some buxibans so you may work 6 days a week or possibly five. Public school teachers work a more regular 8-5ish schedule.
Related articles
Considering other countries?
Wondering what's it like to...