Are you thinking about teaching English in Taiwan? If so here are some reasons why you might like it or not. Taiwan is an island off the southeast coast of China and it's got an exotic feel. Maybe it's the palms, the weather or the binlang xishi. See below and find out if it's for you.
1. You like it hot and humid
It can get pretty hot and it's definitely humid. Winters can be cool and it tends to be hotter in the south.
2. You like sunny weather if..
It's pretty sunny IF you are not in Taipei or the rainy north of Taiwan. From around the middle of Taiwan down to the south on the western half it's pretty sunny.
3. You like majestic scenery
Taiwan's mountainous interior resembles the Rocky mountains. Some of it's interior can resemble the rainforest and the east coast somewhat resembles Hawaii. However, the west coast of Taiwan is plains and a bit dull and covered in cement.
4. You like big mountains
The mountains here are big. They are mainly in the interior of the island.
Yushan is over 12,000 feet.
5. You love the beach
Taiwan has some great beaches. In fact it has some of the best beaches in Asia. You'll find great beaches in the south of the island, on the east coast and on the surrounding islands.
6. You have some start-up cash
Most people get jobs in Taiwan by going there to find one. So you would need to show up with some cash for a bit of security until you find a job. I'd recommend at least $2000 after your plane ticket. You'll need money to find an apartment to rent (rent and deposit), maybe a scooter, a visa run and food until you get paid.
I have known people who have showed up with less and managed. You can always do some sub work if you need some quick cash.
7. You want to make good money
Average salaries in Taiwan can range from around 50-65,000 NT$. The average part time wage is 600 NT$ an hour. If you want to work you can get an evening job and a morning job and make even more money. Places like Korea or the Middle East (if you have experience) are better though.
8. You are a licensed teacher
If you are a licensed teacher (certified in your own country) then you can get a job working in a public school in Taiwan. TEFL/TESOL certificates do not replace them.
If you are not a licensed teacher don't worry as you can still find a job teaching in a buxiban (private language school).
9. You love fruit
Taiwan is known for it's delicious fruit. You will find a large variety of different kinds of tropical fruit.
10. You are a vegetarian
Taiwan is the best place for vegetarians in Eastern Asia. There are many restaurants here that cater to Buddhists who do not eat meat, garlic or onions. But don't worry the food is still tasty. And if you are not a vegetarian you will still find plenty of meat and fish dishes.
11. You want to learn kung fu
Martial arts are popular in Taiwan. It's a good place to learn Tai Chi, Wing Chung, Shaolin or other forms of Kung Fu.
12. You want to try binlang
Binglang or Betel nut is a common stimulant that is used in Taiwan. If you don't want to chew it then you might at least enjoy admiring the binlang beauties whom often dress like show girls.
13. You want to drive a scooter or motor bike
Scooters are the most common way of getting around. They are fun and convenient. There are millions of them in Taiwan. They do contribute to pollution though.
If you live in Taipei you won't need one since the public transit system is so good. Koahsiung has a small MRT system and Taichung has one under construction.
14. You surf
If you surf then you'd want to find a home on the east coast or somewhere down south near Kenting. The Taiwan Strait on the west coast doesn't have much for waves although I've seen some people trying.
15. You like earthquakes and big typhoons
Taiwan as well as Japan lies on the Ring of Fire which is very active area in the Pacific where earthquakes and volcanic eruptions occur. August is typhoon season. It can rain very hard and get very windy.
I remember quite a few earthquakes there and some serious typhoons. The other places I lived in Asia were more tame.
16. You are a Buddhist or Daoist
93% of the residents of Taiwan are Buddhist or Daoist. Temples are abundant.
17. You want to live somewhere friendly
This little island is known for it's friendly people.
Although someone said if you are from the mainland then they may not be as friendly to you.
18. You like tea
Tea shops are abundant here as are shops that make fresh fruit drinks and other icy drinks.
19. You have an open mind
This is not specific to Taiwan, but it is to teaching abroad in general. If you don't have an open mind then I think it will be difficult. Things will be different.
20. You want an easier going work life
I think it's relatively easy to find a job here working less than 20 hours a week. I had two jobs here that both gave me an ARC for working less than 20 hours. There are a lot of easier going jobs advertised on Tealit like this.
Korea is definitely not the easier going place as far as work goes. I mean I don't want to mislead you because there are jobs there that aren't going to be easygoing, but compared to Korea, China and Japan it's pretty easy going. I'd probably put China at number two.
21. You want to teach or learn how to do it
This is where you are going to be spending a good chunk of your time. You might realize you are not a natural teacher, but that's the same for most. Most people only teach abroad for a year or so.
But the thing is you can always improve and make your life better.
If you teach mostly kids (most of the jobs) then take this course if you want to feel more confident in that classroom.
Remember teaching kids is hard.
They are high energy, have a short attention span and they are not tame.
Lastly...
22. Life is short so...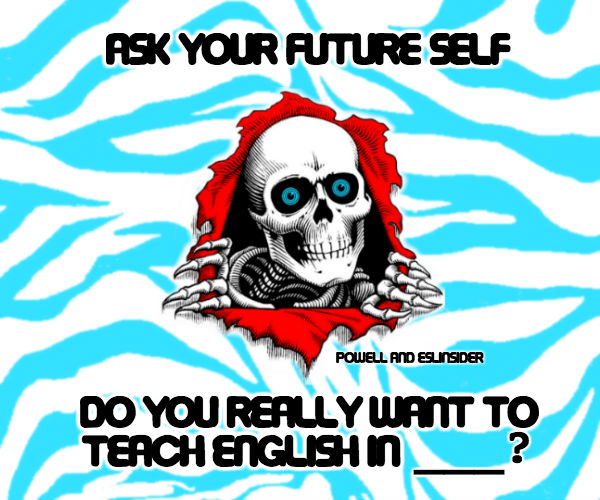 You are going to die.
So is teaching in Taiwan something that you want to add to your life story? Will you regret it if you don't do it?
It's normal if you feel anxious or hesitant. But teaching abroad is not for everyone. See the above reasons to see if it is.