ESLinsider offers a number of helpful resources for teachers. These resources primarily provide training, however, some also provide insight into teaching in Asia. Whether you are just getting started with TEFL or you have been teaching for years I think you will find something here that will inform or inspire you.
Here's a look at the resources:
"I wish I had found this website before I took my CELTA course." - Ela
This course is especially focused on teaching English to kids in East Asia. TEKA is the current course. This is the best course that I've created so far.
There are currently 2 online courses:
Basic course

Advanced course
TEKA includes all of the resources below bundled together and a new styled certificate, but don't this course for just the certificate take it because you want to learn. That actually pays off in the long run. In other words if you don't know what you are doing you won't enjoy your job and you'll soon be looking for a new job.

You can read reviews of ESLinsider's courses.
(If you donate $5+ and send me a message you can have a copy)
The Lazy Teacher's Guide To TEFL is a simplified training guide to teaching English abroad. This guide takes a less is more approach to TEFL. This can be especially good for beginners. It is designed to not overwhelm you with extraneous information.
You can only truly learn small bits of info at a time. If you are exposed to too much information in a short period of time then you won't retain it. Some courses can overwhelm you with information. This strips out the non-essentials and focuses on what really matters.
It is a training guide that will save you time and make your entrance into the TEFL world much easier. You can read reviews and buy it for a few bucks on Amazon.
(If you donate $5+ and send me a message you can have a copy)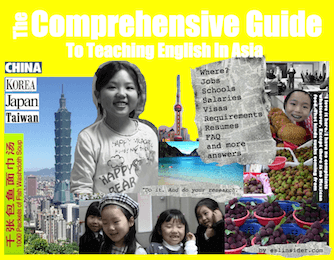 Thinking about teaching English in Japan, Korea, Taiwan or China? Learn about the differences between these countries, how to write an excellent ESL resume, where to find ESL jobs, the differences between public and private schools, about visas, etc.
Read the updated version online here.
(If you donate $5+ and send me a message you can have a copy)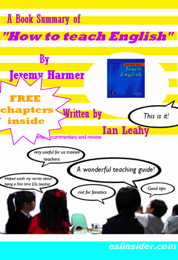 This is a summary of the classic book How to teach English by Jeremy Harmer. It's a simple, practical and compressed guide for teaching English.
(Whoa!)
Watch over 100 videos and learn: lesson planning, warm-ups, icebreakers, ESL games and activities, teaching tips, classroom management and more.
(If you donate $5+ and send me a message you can have a copy)
Learn a 101 teaching tips for teaching English as a second language. You can read these online or listen to them. Learn: how to speak in front of your students, classroom management tips, tricks to keeping your students interested and much more.
"If the material seems to be boring to the teacher, it will be boring to the students, but the reverse isn't always true. Just because the teacher finds the material to be interesting doesn't necessarily mean that the students will." -Arch Lustberg
(If you donate $5+ and send me a message you can have a copy)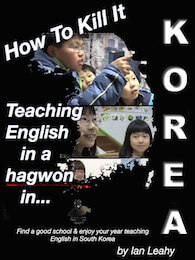 This is an in-depth guide on teaching in a hagwon in Korea. It will help you to avoid any of the horror stories that you may have heard and teach you how to actually teach in a hagwon. Learn more.
The blog is filled with useful and insightful articles about teaching English in Asia (and probably a few not so useful ones wink wink) .