This is an in-depth guide on how to start teaching English abroad with a focus on teaching in four Asian countries: Korea, China, Taiwan and Japan. It does not focus on the teaching or training part of that.
For that I recommend either the course or some of the other resources.
You can read some of this guide below by following the links or you can purchase the whole thing on Amazon.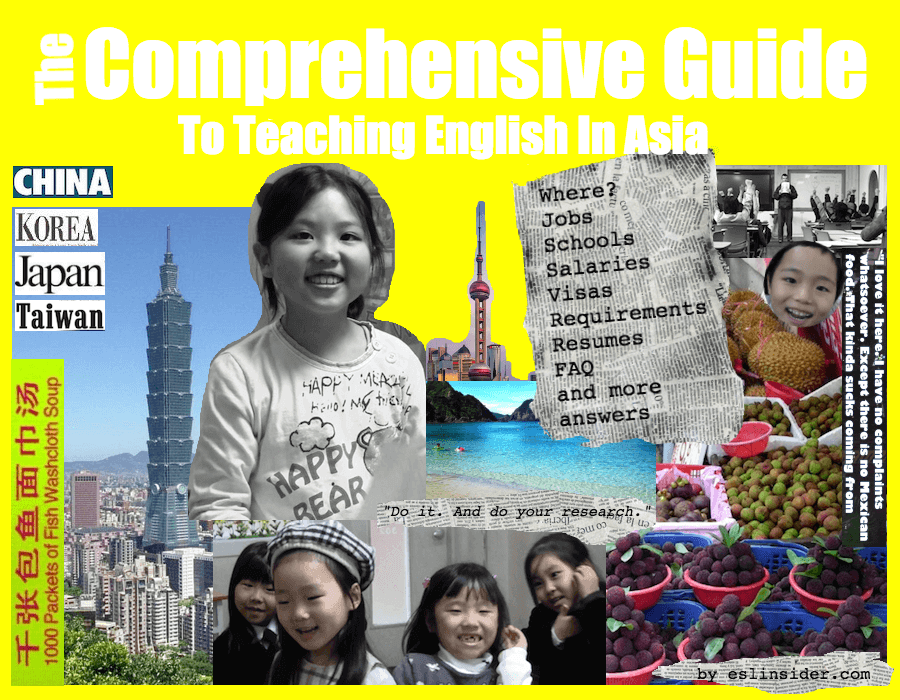 I have personally taught in China, Korea and Taiwan. This guide will help you choose a country, a school, an age group, polish your resume, stand out and probably answer any questions you have about teaching in Asia. Check it out the Comprehensive Guide To Teaching English In Asia on Amazon.
Here's a look at the contents
1. Requirements
2. Choose your place
3. Japan...

How to get a job
Websites for finding a job in Japan

4. Korea...

How to get a job
Websites for finding a job in Korea

5. China...

How to get a job
Websites for finding a job in China

6. Taiwan...

How to get a job
Websites for finding a job in Taiwan

7. Still not sure where you should teach?
8. Do I want to work in a public or a private school?

Public schools
Private schools aka Hagwons, Buxibans, Training Centers, and Eikaiwa
Other kinds of schools

9. What age group do you want to teach?
10. How to Write an Effective Resume for Teaching English Abroad

Cover Letter
Writing your resume
Reference Letters

11. Job hunting tips

Likability Wins
Go There And Look
See The Big Picture
Use Recruiters for Info and Maybe a Job
No Experience?
Make Your resume REALLY Stand Out

12. FAQ

Do I have to speak their language?
Do I have to teach for one year?
How much money do I need to bring?
What if I am not Caucasian?
How much money can I save?
Is there FREE housing and airfare?
Can I still teach in Korea if I have a criminal record?
Should I take a TEFL/TESOL/CELTA course?
Do schools in Asia have vacations, summer and winter breaks like western schools do?
Who speaks the most English?
Do you have any advice?
What does TEFL, ESL, EFL, and TESOL mean?