I-to-I is popular provider of online TEFL courses as well as in-class courses. They are also known as Love TEFL. I thought it might be helpful to some if I collected some reviews of it's 120 hour online course from Youtube and Reddit.
I also chimed in with my experience and thoughts in a few places too. It's important to note that these are not paid reviews and they don't contain affiliate links.
Some lies
I just found this page on i-to-i's site about the requirements for teaching in Taiwan.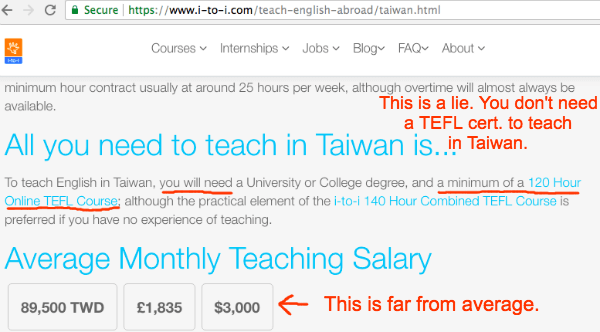 I taught in Taichung and Tainan, Taiwan from 2004-2006.
You don't need a TEFL certificate to teach in Taiwan. The only time that you would to get an ARC is if you only have an associates degree, but if you have a bachelor's degree you won't legally need one to teach there.
Now in a public school in Taiwan you normally need to be a "licensed teacher", and in a buxiban in Taiwan you don't.
Here's another post on the requirements to teach in Taiwan on law.oj.gov.tw.
You won't see any mention of a TEFL, TESOL or CELTA certificate on that page either. When I taught in Taiwan I knew plenty of people who didn't have any TEFL or TESOL certification.
You just need a degree and to be a native speaker most of the time to get a legal visa.
Also the salary for Taiwan that they said is very high and not close to average. You can read more about this and i-to-i on Reddit.
---
Reviews from Youtube on i-to-i's 120 hour online TEFL course
---
My thoughts
I also didn't think that the first course that I took was that fun. There were 2 days in a classroom and then take home study. There was a lot of general overview and then studying teaching methods, theory and grammar.
That stuff went in one ear and out the other. I think the value of learning that stuff is minimal. The things that I actually remembered in that course were the two activities that we did.
If you want to be able to walk up to the teacher and inquire then you might want to take an in-class course. Face to face communication is absent in an online course. There may be feedback depending on the course, but it will probably happen via messaging or email.
My thoughts
The use of so-called "hours" with TEFL courses especially online courses is kind of deceptive. Read more about how long online TEFL courses take to complete.
Reading text and clicking next sounds similar to the Groupon course I took. Find out more about what online TEFL courses are like.
---
My thoughts
Massive "discounts" and time limited offers are kind of common with TEFL courses. Learn more about how TEFL courses try to sell to you.
---
Reviews from Reddit on i-to-i's 120 hour online TEFL course
"I did an i-to-i course and it's fully recognised by many schools. Both the online and practical parts of the course were great! I managed to get a lot of interviews and I've now been working in an awesome teaching job in Poland for three months...
I'm from the UK though and don't know how the American i-to-i course will differ and I'm not sure about how good it would be for South Korea sorry." - Jwb93
My thoughts
i-to-i is a company that has been around for a while so I am sure that some schools have seen their name before. But the phrase "internationally recognized" is a bit misleading. Learn more about "internationally recognized" TEFL courses.
---
"Legitimate is a difficult word. It isn't illegitimate, but if you want to make a decent start in the TEFL world you need to search the sub for discussions about online certs vs face to face courses. (in summary do the CELTA)" - ai565ai565
My thoughts
CELTA is considered by many to be the best when it comes to in-class TEFL courses although some people can be a bit dogmatic when it comes to CELTA.
Read more about the Reddit's views on online TEFL courses and about "legitimate" courses.
"The only really difficult part of the TEFL certification was the actual lesson plan you must draw up. I took an entire day to write mine out. I carefully went through all of the examples provided in the book and wrote everything as meticulously as possible. This is not multiple choice like most of the course and requires a little more thought.
The lesson plan and your accompanying explanation document gets graded by a tutor, and you must wait usually around a week to get results back (I bought the express marking package for 7 dollars, in which I got an answer back on my results within 24 hours)." - Teufulkoenig
About i-to-i's course
Includes
---
You Can Complete This Course And Obtain Certification In 2 Days For $59 If You Work Hard On It
---
Reviews on other online TEFL courses