What is an online tefl course like? Well, it depends on the course as no two online courses are the same.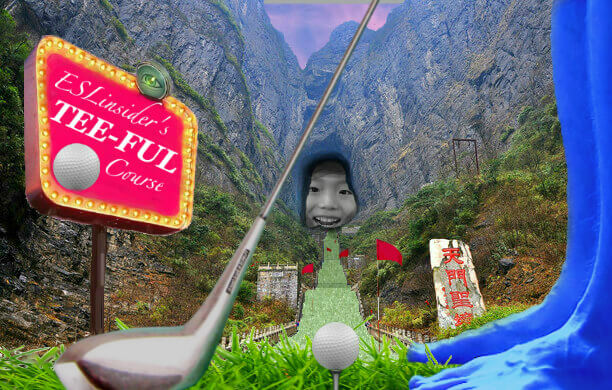 This post takes a look at some of the content from ESLinsider's online TEFL courses. And I won't tell you everything of course because I want you to be pleasantly surprised (if you take a course here) and I am paranoid about my competitors copying me, lol.
Now...
I've taken 2 different courses aside from the ones I've created. I took one TESOL course that was short and mostly in the classroom before I started teaching in Taiwan in 2004. Then I took another online course in 2016 on Groupon to see what I'd get for $39.
And in that course there were no images or videos and it was basically like reading and then answering questions usually after reading large passages of text.
What's the problem with that?
The problem is people don't remember what they read.
Some studies show that people typically only read around 20% of a webpage. You skim and scan large passages of text for what interests you right?
If you don't have a visual much of what you read or hear is going to go in one ear and out the other. People remember what they see and or do. Hence, "Monkey see, Monkey do".
So that's something to keep in mind.
Now about ESLinsider's courses.
Formally there was a 20, 60 and 120 hour course. The 120 hour course has changed names to the Advanced course and then most recently to TEKA.
And it has improved considerably since the early days.
The outline of the former 60 hour course (no longer available) is used here as an example. This outline is similar to the other courses as well.
The courses were essentially built from the same foundation, however ESLinsider's best course (TEKA) contains more content, quizzes, assignments and interaction.
Here's what an experienced and licensed teacher said:
"I wish I would have taken this course BEFORE I started teaching here three years ago. The methods and insights given in ESL Insider's 120 hour TEFL course could have saved me a lot of grief and disappointment. Now I am optimistic about starting a new school year armed with better lessons and a realigned perspective. Thank you, ESL Insider!" - Dolly M.
Here is a video that describes what the course content is like
This is a screen recording from 2015 that describes and shows what the courses were like then. However, keep in mind that ESLinsider's best course (currently called TEKA) has been updated a lot since this video was made.
You can check the course page for the latest updates.
This is the "former" 60 hour online course 'syllabus', which is similar to the advanced course and TEKA, but a bit more drab
These screen shots will give you an idea of what is involved in a TEFL course. This is similar to the 120 hour course, but minus some content, assignments and quizzes.
Start - This is an introduction to the course. You'll notice that there is a blue link for "Start Here" in this topic. The other topics will be blue as well when you finish correctly the section before it.

Teaching methods - In this part of the course you will learn different methods for teaching language. Again as you can see in the screen shot this link is grey. When you complete the introduction it will open and be blue.

The teacher as a public speaker - Here you will learn how to speak publicly as a teacher. You will learn about how to best use your body language to teach your students.

Learning styles - Here you will learn about 3 different so-called learning styles. These will include common beliefs and misconceptions about them.

Lesson planning - Here you will learn how to plan lessons using two different styles of lesson planning that works for both beginners and adults.

Presenting language - Learn how to present new language to your students such as vocabulary, phrases, sentences, etc.
Teaching listening - Learn how to teach listening skills to your students.

Teaching writing - Learn how to teach writing skills to your students.

Teaching reading - Learn how to teach reading to your students.

Teaching speaking - Learn how to teach speaking to your students. This one is especially important as most ESL schools tend to focus more on conversation.

Teaching pronunciation + phonics - Learn how to teach pronunciation and phonics to both adults and children. Phonics are not just limited to children. This section includes a midterm review.

Grammar - Learn the labels of the language and how to describe language especially to adults and higher level learners.
Teaching with games, activities and songs - Learn how to keep your classes both entertaining and educational. People learn better when they are having fun and they are interested. This is important for all levels and it is especially important for children.

Classroom problems - Learn about common classroom problems and how to deal with them.

Classroom management - Learn how to manage your classroom and students. This section is especially important. Managing a classroom and students can be tough especially when you don't know what you are doing!

Resume writing + culture shock - Learn how to write your resume for teaching ESL and about culture shock. Having a polished resume that stands out is very important when looking for a job.

Final exam - This is a final exam for the whole course.

TEFL certificate - This is issued after successful completion of the final exam.
So now you know what the outline of the course is like.
How does this online TEFL course work?
Once you log in you'll be able to start the course. There is no time limit to the course so you can work on it as you like.
These courses require the student to maintain an 80% or higher throughout the course and an 85% or higher on the exams (midterm review and final). Basically you will be presented a lesson and then have to answer questions and do assignments about it.
Inside the topics you will find content that is made from text, videos, PDF's and audio. Then there will be multiple choice, true and false, matching and fill in the blank questions that follow. This makes it interactive. Here's a piece from the lesson planning topic.
Assignments
The "Advanced" 120 hour course includes 4 lesson planning assignments and feedback on those assignments (lesson plans) as well as one classroom management assignment.
An example of interactive online TEFL course content
Here is a sample of some of the content used in the course.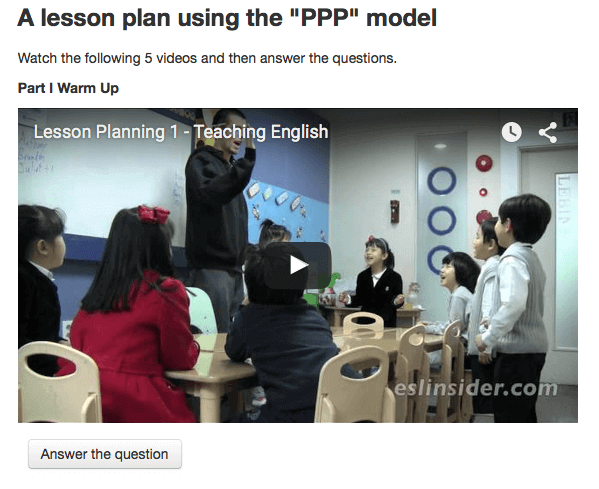 So after you watch the video you will then answer the questions on the following page. These questions can be Q&A, true or false, fill in the blank, etc.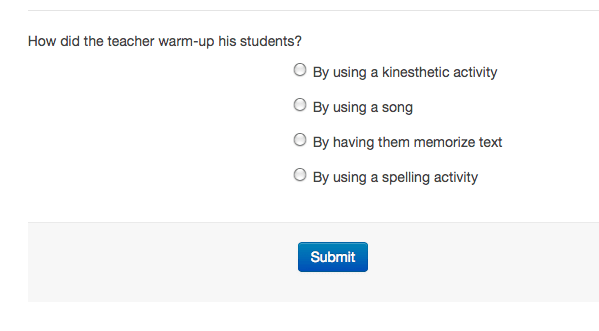 Video content
This course uses a lot of video.
ESLinsider has 7,800+ subscribers on Youtube and the video below currently has 293,000+ views.
These videos were filmed in public and private schools primarily in South Korea. If you are planning on teaching there or somewhere else in Asia these videos will provide great context to the environment that you will be teaching in. Some of the videos include footage of adult classes, but most of the videos are of young learners aged from about 6-14 years old.
Above is a how-to video that follows the "PPP" method of lesson planning. It was shot in a kindergarten in Busan, Korea. This video breaks down the lesson into 5 parts and uses a lot of activities to keep the students interested, active and learning. People have short attention spans and children have even shorter ones!
Teaching young learners is the largest part of the market in Asia for teaching jobs. You can teach virtually all ages, yet most jobs are for teaching children. Most TEFL/TESOL courses focus more on teaching adults. Most of the content in this course can be applied to both adults and children, but there is more of a focus on teaching children.
"I took Ian's 120 hour (now called Advanced) course two years ago and it was one of the best investments I made. I had been teaching in Korea for six years up to that point and had to learn through trial and error on the jobs I worked which was not easy. Ian's course is practical and based on actual experience in the classroom, not just dry theory.
The videos were extremely helpful in the process and I still refer to them every now and then when I need ideas for class. While the course is not overly difficult, it's certainly no walk in the park as you do have to pay attention and take notes. I really wish this course had been around during my early years in Korea because it would've helped so much more than the so-called orientation and training I did for a week in Seoul when I started with EPIK." - George's review
You will need to maintain an 80% or higher through the course. If you don't then you will not be able to proceed to the next topic.
So that's a close look at what the courses are like. You can see the course outline for yourself after you register and log in.
Online TEFL course FAQ
How long does it take?
What is the duration of the course? You have long term or lifetime access to TEKA. How long to complete it depends on you somewhat. If you have a lot of free time then you can probably complete it in 2 weeks.
How many hours do I need?
Typically more hours equals more thorough training. Some employers may not care much about that as they are not always required. However, in terms of TEFL courses those greater than 100 hours are considered by some to be better and are more widely accepted.
Is it hard?
It's not meant to be especially difficult and I don't try to make it difficult for the sake of it. Rather I have tried to make it just like you should make your lessons - fun, interesting, a little challenging and educational.
Do you have other questions?
If you have any other questions about the course you can leave them in the comments below. You can also find ESLinsider's course FAQ here and another extensive, but more general TEFL course FAQ here.
Does this look interesting to you?
Learn:
how to be the one in charge
how to make your classes fun and educational
how to maintain your students attention
how to deal with difficult students
to create lessons with minimal prep
how to find a good school (or at least a decent one) and avoid problem schools and horror stories
how to make the most of your time abroad and develop yourself along the way