FYI: Any review that you read on the site "Trusted" TEFL reviews is likely fake. If you are looking for reviews on TEFL courses I suggest you read this.
---
This is a review of TEFL Full Circle's "120-160 hour" cheap TEFL course on Groupon. Just so you know this review was written by someone (that's me) who has taken several TEFL/TESOL courses and who has years of experience teaching in China, Korea, and Taiwan.
And I am just letting you know that compared to other reviewers (w/ mostly no experience) this person has something to compare it to.
I took this course not because I needed another certification, but to see what I would get for my money.
This was the first time that I bought a course on Groupon and I found the whole process of getting started to be a bit stressful.
I imagine this was partly due to there being a third party - Groupon and having to make multiple accounts and passwords.
It's probably not too big of a deal if you use Groupon regularly, but it slowed me down and stressed me out initially.
Facts
6 month enrolment
26 modules (see below)
$39
Accredited by ACCREDITAT. Learn more about TEFL Accreditation.
10 business day wait to download your certificate after completion. You can speed it up for about $20.
120 or 160 hour cert. This is a PDF download. You can pay another $10 or so for a hard copy.
Wondering how long an online 120 hour course actually takes?
Online TEFL course "hours" aren't accurate. I completed the quizzes, test and assignments (17 modules) in like less than 8 hours. I didn't read everything. I zinged through it pretty fast as I have experience and have taken courses before. I wasn't taking this because I needed a certificate or needed to learn. I just took it to see what it was like to compare it to what I've done.
The 10 business day wait seems a bit silly. I suspect they are hoping that you will pay the $20 to speed it up.
Overall review
On the plus side this course is pretty orderly. Yet, there is quite a bit of terminology, definitions and memorization that's going to go in one ear and out the other.
And...
It's a bit generic and boring.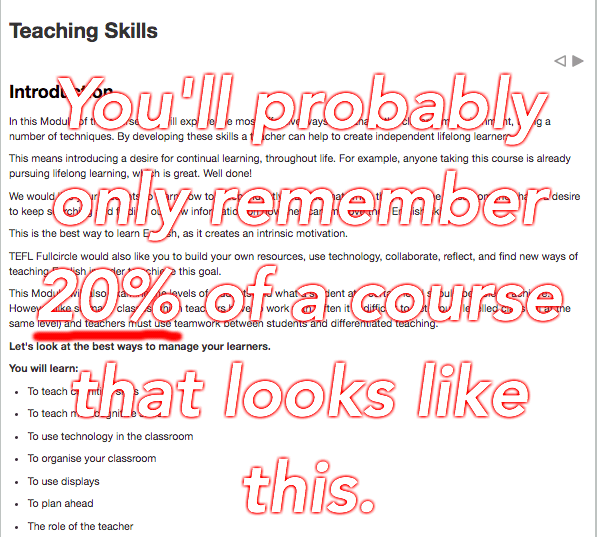 If you are lucky...
"I finished the entire program in 3 days and retained like 5% of the information." - woobv
My complaints:
No video.
No audio.
Seems to focus a bit much on teaching methods, grammar and theory.
Lots of jargon that seems a bit excessive to me.
True, there were some typos like I read elsewhere, for example this true or false, "Extrinsic learners can be motivated into intrinsic learners." A few is no biggie, I would just try to correct them.
If you make say 3 mistakes and your grade is less than 80% in a unit you have to go back and redo the whole unit not just the errors.
Uses the PPP method, but seems to make it overly complex by turning 3 steps (PPP) into 7. I have seen PPP with a warm up and review making it 5 steps yet they add two more steps to it.
2 blog posts. It doesn't seem like an active site. I saw 2 posts: one from 2015 and one in 2017.
Generic stock images. They use some images in the course, but they are a little generic and unrelated to the content for the most part.
You have to read large blocks and pages of text before answering questions.
It's not very memorable.
Here's a look at the course syllabus.
Course syllabus
Module 1: Teaching and Learning Ideas
Module 2: Teaching Skills
Module 3: Managing the Classroom
Module 4: Grammar Basics
Module 5: Verb Tenses
Module 6: Lesson Planning - PPP Technique
Module 7: Teaching Grammar with Activities
Module 8: Teaching Vocabulary with Activities
Module 9: Teaching Phonology with Activities
Module 10: Productive Skills - Teaching Speaking
Module 11: Productive Skills - Teaching Writing
Module 12: Receptive Skills - Teaching Listening
Module 13: Receptive Skills - Teaching Reading
Module 14: Assessment and Learning
Module 15: Technology in the Classroom
Module 16: Teaching One-to-One and Business English
Module 17: The Importance of Reflection
Module 18: Teaching English to Young Learners (TEYL)
Module 19: Learning and Development
Module 20: L2 Learning
Module 21: Teaching Listening
Module 22: Teaching Speaking
Module 23: Teaching Writing
Module 24: Teaching Reading
Module 25: Stories
Module 26: Top Tips for Becoming an Outstanding Teacher
---
You Can Complete This Course And Obtain Certification In 2 Days For $41 If You Work Hard On It
---
1 assignment
At the end of the course you have to write a lesson plan, do a writing assignment and there are some quizes throughout the course.
I think if you finish up to lesson 17 you can get a 120 hour certificate. That's what I did.
Questions...
I saw some questions that were asked about this course on the web.
Is this course legit?
It's as legit as almost any other TEFL course. Legit implies legal, well there are no rules when it comes to TEFL. There is no international accreditation. There is no one accrediting body. There are a few more official accrediting organizations like Cambridge for CELTA and a few others.
But much of the accrediting in TEFL is done by businesses. Accreditation isn't provided for free by the government.
And I saw some people searching for the answers...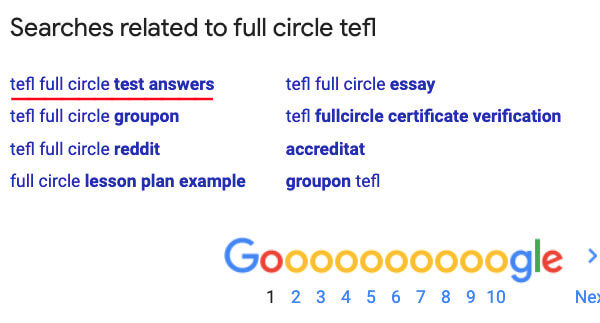 Which could mean a few things:
The course is hard, not that easy or lower quality.
The people searching for the answers are cheaters.
Since I took the course I am going to say, yeah it's kinda boring. The people taking this course just want an easy certification.
But this isn't just Full Circle. I found people searching for "answers" to many different online TEFL courses.
Problems with Groupon courses
These are some common problems with the courses on Groupon.
Limited to no personal interaction with a human
Not interactive
Text heavy
Little to no video
Lack of feedback
These courses are typically text-based courses with little to no video. Studies show that most people read very little online (20-28%). So what that means is that you will likely remember very little since teaching will largely be an abstract concept if you haven't done it before.
Typically courses like this work by having you read a chapter or "module" and then they'll have you take a quiz on it.
These courses are cheap for a reason.
Groupon brings traffic and large numbers which enables course providers to lower their cost, but in doing so they typically lower their service. Any course on Groupon that is cheap will likely not have the sufficient man power to offer you much or any help.
That's one of the reasons why many online TEFL courses are not any good.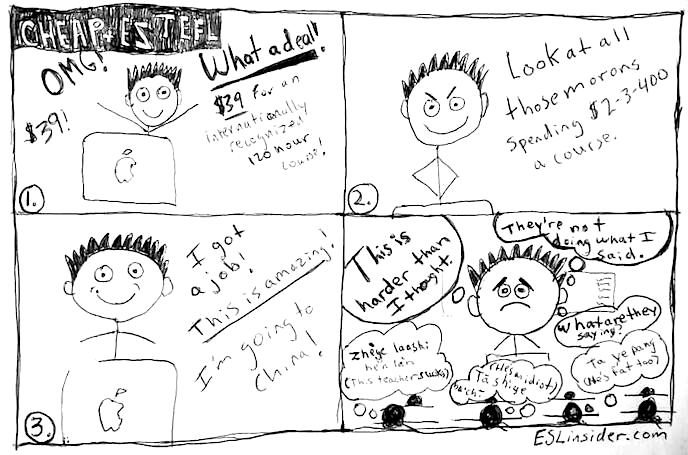 Full Circle is a cheap and relatively easy way to get a certificate. But honestly I don't think you will learn or retain much of anything from this because of the reasons already mentioned.
You probably can't imagine these problems now, because it's not your reality yet, but soon enough you will be teaching and these are some of the problems that you are likely going to have.
Bored students
Difficult students
Chaos in the classroom
Students who won't talk
Students that ignore you
Students that don't pay attention
Students who don't want to be there
Students that speak when you speak
Students that speak their native language in your "English" class (You won't know what they are saying and they might be talking about you)
How do you think those problems are going to make you feel?
Stressed, unhappy, depressed, homesick or disappointed with teaching abroad?
That's likely.
Here's how you can solve them.
Reviews on other cheap Groupon TEFL courses
Reviews on other online TEFL courses
Related guides on: