I moved to Busan, South Korea in November 2007 to find a job teaching English. I lived there for about 2 and half years. I lived in Seomyeon for almost 2 years, Sinpyeong and briefly in Hwamyeong. I liked that it was surrounded by mountains and that the ocean was nearby. It made living among 3.5 or so million people easier. It was quite a bit bigger than the cities Taichung and Tainan where I lived in Taiwan.
It's very convenient to get around the city by bus and with the subway system. Public transportation is very efficient and relatively inexpensive. Getting to other cities like Seoul is easy too via the KTX (fast train).
The city is laid out between the hills and mountains and there isn't really one single major center - rather there are several. Seomyeon is pretty much the center, yet Nampodong, Haeundae, Pusan National University, and the Kyungsang University area are all busy areas for shopping, eating and nightlife.
Mountains

Hwangnyeong mountain looking towards Busan port
with Taejongdae and Yeong Do in the background
Busan is a great city for hiking. I hiked mountains all over this city. Trails are abundant, so it's pretty easy to point to a mountain, go to it and find a trail. There's a really nice temple called Bogwangsa nestled away in the hills not far from Hwangnyeongsan (to the right).
There are some small deer that live in the mountains around Sinpyeong and Hadan. They may inhabit other regions as well, however I frequently saw them in the woods around this area. There are some nice mountains with tall grasses between Saha-gu and Sasang-gu. One of the tallest mountains in Busan is Jangsan near Haeundae.
An odd thing thing that you will find is that many off the mountains and hills have outdoor gyms on them. Here you will find different kinds of aerobic machines, weights, and even incline tables.
Weather
The weather is pretty good in Busan. The summers can be pretty hot (up to 30 degrees C, 86 degrees F) and humid. The winters can be pretty cold (less than 1 degree). Many Koreans will complain about the heat, but after living in Taiwan I didn't find the heat or humidity to be too much. I saw snow flakes fly once, but it never stuck on the ground.
More on the climate in Busan.
Beaches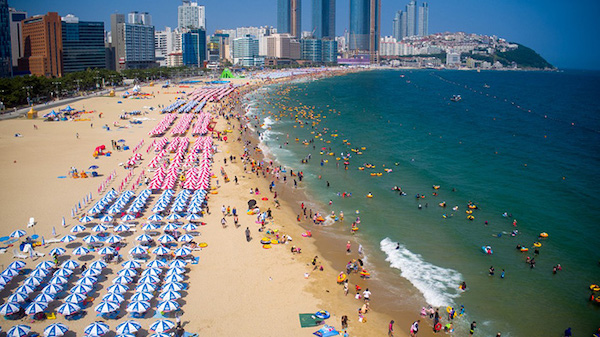 While they may not compare to other beaches in Asia, Busan is still known for it's beaches. In the summer hundreds of thousands of Koreans head to the beach at the same time. And the beach that they usually go to is Haeundae beach. On a Saturday or Sunday during the summer finding a spot on the beach can be pretty difficult as it's mega crowded (click and scroll to 2nd pic). The waters can be also crowded with people swimming and jetskis zooming around. Many of the teacher interviews were filmed on Haeundae beach.
Gwangalli beach is a smaller beach near Gwangan station. It is located west of Haeundae more towards the center of the city. It has more of an urban vibe as it's surrounded by buildings and the Gwangan bridge just offshore. It holds a fireworks show once a year in October.
Sonjeong is a nice beach to the far east of the city past Haeundae. This beach is pretty mellow compared to Haeundae in the peak season.
There's a beach on Yeongdo towards Taejongdae park which is not too far from Nampodong by bus. This is a small beach and there are a few small rocks to jump off. Taejongdae is a really nice area with some nice vistas of the sea from some steep cliffs including suicide cliffs.
Songdo beach is also near Nampodong. Which is a pretty small beach with some ugly object (a whale) just offshore.
September is the best time to go to the beach as everyone else has headed back to work or to school.
Parks
I don't recall many parks in Busan, yet as mentioned there are mountains all around the city, however there are a few. One of them that I would often go to was Yongdusan Park which is located in Nampodong. There you'll find nice views of the sea and Yeongdo.
Food
You can eat for fairly cheap at the Gimbap Cheongguk restaurants. They serve things like bibimbap, gimbap, kimchi ji gae, and other inexpensive dishes (1000-5000 Won). You can also eat out in a variety of restaurants that serve local and international foods. And dishes can range from $10-20+. Dominoes pizza is pretty pricey and you easily pay $20 or more for a pizza. Chains like Starbucks, Coffee Bean, KFC, Dunkin' Donuts, Baskin Robbins, McDonald's, and other American chains are popular over there.
Loving Hut is a popular restaurant for vegetarians near Seomyeon.
Pollution and air quality
I didn't have any problems with air pollution when I lived there. Busan's location near the sea probably helps. Most of the time the skies were relatively clear.
People do throw trash in the streets though. Finding a trash can in Korea can be difficult. Some of the areas near Seomyeon and other centers can get pretty trashed at night with flyers and other litter on the ground.
More info on Busan:
Koreabridge.net find a job, friends, an acupuncturist, forums and more in Busan