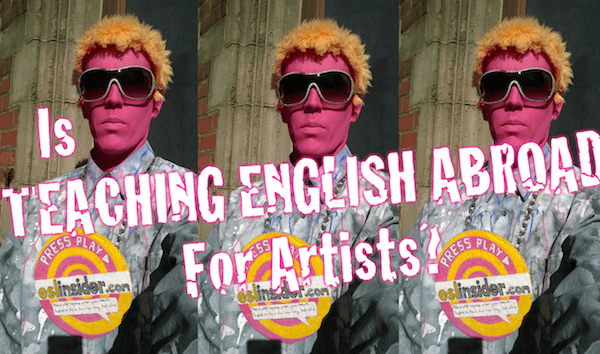 Is teaching English abroad for artists? Teaching English abroad can be for anyone really. All kinds of people teach English abroad, even weird pink dudes like above. People have backgrounds and degrees from all subjects because one of the basic requirements is a degree (usually in anything).
While degrees in related subjects can help, any degree is usually enough to get a job teaching abroad.
I have a degree in fine art (BFA) with an emphasis in painting. I have been making art my whole life: drawing, painting, sculpture, street performing, DJ'ing, etc.
I also taught English in China, Korea and Taiwan and lived in Japan. Now if you are an artist and are wondering if you should teach English abroad then this is for you.
If you are considering teaching English abroad then that means you probably need a job. Maybe your art or music is not bringing in enough money yet and you need some help.
You can find a pretty good balance between work and time to make art in some places
You can find part time or more easy going jobs so that you have the time to make art.
If you are committed to your art it's definitely possible to find a job abroad working part time 20-30 hours a week or even less.
That's what I did.
I spent about 8 years in Asia and I only had a couple full-time (40 hour) a week jobs. One was for like a month or so subbing and then another was for like 6 months or so.
My first job in Taiwan was working about 12-13 hours a week and then a got a few more hours worth of work at other schools and I got by on maybe 15-16 hours a week or so.
My second job was like for 18 hours a week. I had time to scratch my records and wander around.
Korea is a bit more work for most, but I still had one job working a total of 25-30 hours in a hagwon. You'll have to look harder in Korea to find an easy going job.
China is pretty good for finding easy going jobs. I mean there are 40 hour work weeks out there if you want them, but quite a few jobs in China are less like the one I worked at.
In Asia the salaries for teachers are pretty good. It depends on the country and school, but it's definitely possible to make maybe $15-25 an hour or more teaching English.
And the cost of living can be pretty good depending on where you are.
Freedom and inspiration
Teaching in Asia or wherever could be inspiring for you. It's totally different. Part of the reason I got into teaching abroad is that I loved to travel.
I love new things and I love the freedom that comes from living abroad. Nobody knows you so you can totally reinvent yourself if you want.
But like my dad used to say, "wherever you go there you are."
Yet, Asia is kinda conservative and boring
It depends what you measure, what you look at and you.
I thought that the culture in Asia was quite interesting. However, I also think it's kinda conservative. I mean there are artists out there too, but most people there are pretty similar and have similar thoughts.
There's a definite group mindset in Asia.
It's not about the individual like it is in the USA. Conformity is the norm. My favorite place in Asia was Japan.
Visually it was the most appealing. There was more style there. More variety there (for music and fashion) and more groups. It's also the most westernized, yet it also has a strong tradition.
I found many of the other places to be less diverse as far as the arts go. But Japan is still eastern Asia and the group mindset exists there too.
Location doesn't matter or does it?
Overall it shouldn't matter where you go. You can make art anywhere. There's not a perfect place. Yes, a place can influence you, but ultimately it's up to you to make the art.
City or country?
It can be challenging choosing a place to live. In the city you are going to have more options. They are more cosmopolitan. If you are a musician and you want to find places to play then you could try going around to bars.
There are definitely foreign bars out there that are always looking for musicians and DJ's. I did some DJ'ing (I really like scratching records) when I was out there. Usually I did it in my bedroom, but while in Korea I played at a few different bars and did one live perfomance on stage and that was exciting.
So city or country?
There's just more options for everything in a big city. Even though big cities aren't going to be like big cities in your country they are still going to have more options for: social outlets (meeting other foreigners), groups, clubs (jiu-jitsu, judo, martial arts), restaurants, groceries, shopping, books, etc.
But the country or a small city could appeal too. This sort of area can be pretty appealing for some artists. If you don't mind a dose of isolation then this could be for you.
It's also easier to get a job in a more remote place since there is a lot less competition. Most people want to be in the big cities like: Taipei, Seoul, Tokyo, Shanghai, Beijing, etc.
But the countryside or even a small city is going to be more culturally rich for better or worse (if you don't like the culture). There is usually less pollution in the countryside or a small city.
If you don't know the language you are in for some challenges
Teaching abroad can be challenging and one of those challenges is the language. This could make communication a bit difficult and finding places to play your music or show your art could be difficult.
So learn some of their language. You'll be glad that you did and so won't they.
Being a foreigner has it's ups and downs
You're going to get a lot of looks if you look different from them. Eastern Asia is a pretty homogenous place. So if you are not Asian then you are going to get some staring and quite a bit of attention.
That attention can be good so take advantage of it. Some places may prefer that they have some foreign DJ's, artists, etc.
But on the other hand you will probably get some discrimination too. Some things might be easier and others harder. Overall I would expect to work hard to get some attention for your art.
Afterall, what comes easy?
Is teaching English creative?
Yes, teaching can be totally creative and I think teaching kids is better for that and more fun. But before you start making "creative" lessons, I would learn the fundamentals. You can take a course. Teaching is a responsibility and you owe it to your students, their parents, your boss and yourself to learn how to teach.
Trust me, an investment in your teaching will make your time abroad better. A substantial amount of time will be spent in the classroom.
If you are an artist you may not be a natural teacher.
I certainly wasn't.
It was hard for me in the first few years. I did take a course prior to going to Taiwan, but it wasn't helpful for me. It wasn't practical enough so over the years I started making instructional videos shot in the classrooms and then eventually a course.
That course and this site is basically the solution to all of the problems that I had as a teacher abroad.
But the teaching can be creative. You can use drawing, music, and acting in your lessons.
If you are searching for a job teaching art abroad
Then you can try some search queries like:
teaching art abroad programs
teach art in ____ (Japan, China, insert country)
And let me know how you fair.
Sometimes there are some combined teaching English/art jobs for teaching kids, but...
Can you teach art abroad in ____?
Possibly, but getting a job just teaching art abroad is hard because most employers in those countries won't consider hiring a foreigner because they have to provide them with a visa which costs money and is a responsibilty for them.
So why do that when you can hire someone in your country much easier?
The you have to consider do you speak their language?
Another option is looking at international schools if you are a licensed teacher. One of the requirements to teach in an international school is usually to be a licensed teacher. But in this kind of school you could teach a range of subjects if you are qualified.
If you are considering teaching English abroad then...
Teaching could be a "job" to support your art.
For most teaching abroad is a once in a lifetime opportunity, but then again isn't this all a once in a lifetime opportunity?
Related: