*UPDATE: The free TEFL course was discontinued. This article is old and if you want up to date information visit the course home page for the latest.
Disregard the rest of this article.
Available TEFL courses
There is currently a "Basic" course, an "Advanced" course and a course focused on classroom management. These courses were renamed and were formerly the 20, 60 and 120 hour course.
Read more about TEFL course hours.
---
There are several other affordable online TEFL courses (60 & 120 hour) which include certification that range in price from about $120-210.
The 120 hour course is currently the best (most thorough) TEFL course that ESLinsider offers. Getting certified online is more convenient as you can get this certification from anywhere in the world and it can be faster than an in-class course.
About the Courses
There are currently two courses that offer TEFL training. These courses are well rounded with a focus on teaching young learners. You will need to obtain an 80% through the course and an 85% or higher to be issued a certificate on the exams. For updated information on how to get your TEFL/TESL certification online see the course.
Some people think that online courses are not effective or worth it. But why not try it out? People seem pretty happy with them. I personally have taken both in-class and online and I think that there are ways in which online TEFL courses can be better. It really depends on the course.
---
Resources that are nearly free and quicker than an online course
These resources are very cheap and practical.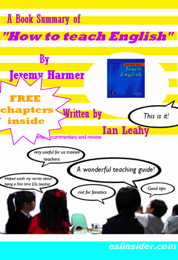 This is a compressed summary of the classic book by Jeremy Harmer called, "How to Teach English". You can buy the summary here or the whole book here for $49-67.
The Lazy Teacher's Guide To TEFL is the less is more guide to teaching English abroad. This can be especially good for beginners. It is designed to not overwhelm you with extraneous information. It is practical and user friendly.
---
Why take a free course?
Well, it's free you'll save your money. You can try it out.
Why take a paid course?
1. You'll get certified. The paid online courses include certification. This is something you can put on your resume. This will improve your job prospects. Some employers will want to see certification.
2. You'll get more thorough training. You'll be better equipped to teach abroad, have fewer problems and be able to handle any problems that you do have in the classroom.
3. You'll get unlimited access. This is good as Tony Robbins said "repetition is the mother of skill".
"I took the course last winter and I loved it! I looked at over 30 different courses online and at local schools and I kept coming back to this course - and I'm very glad I did! This course was thorough and I felt very prepared as I completed the course. Ian's new book is a great course companion guide for keeping the lessons at the forefront of your mind while teaching ESL.
I look forward to taking the 1000 hour continuing ed course and I will always tell others that this is the must take course for preparing to teach English as a second or foreign language. Impressive and not overpriced as so many out there are." - Sandra's review of the 120 hour course
Course content
You can see some content in the online TEFL courses here and an outline below of the basic course.
Teaching methods
Public speaking
Learning styles & are they accurate?
Lesson planning
Presenting language
Teaching writing
Teaching reading
Teaching listening
Teaching speaking
Teaching phonics and pronunciation
Grammar
Teaching songs
Classroom management
Culture shock
Writing your resume & finding jobs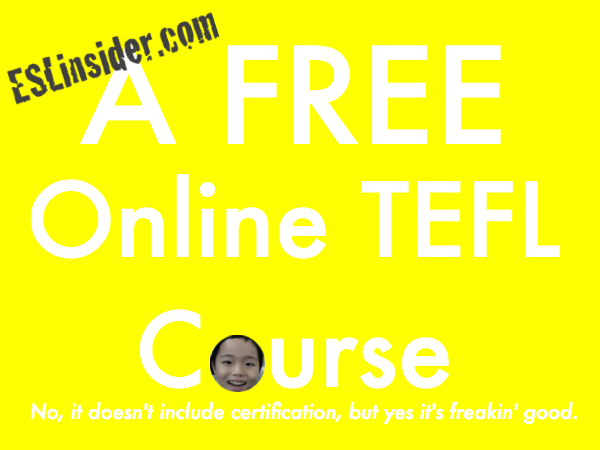 Related articles to TEFL courses
Related articles to online TEFL/TESOL courses
"I greatly appreciate what you are doing here, and it has been a valuable tool in me deciding if this is something I would enjoy as a career. You answered a Yahoo Question for me and that is how I found your site and it has been nothing but helpful since." Rob M. more
Learn more about TEFL courses.