Yes, online TEFL courses can be worth it, but it depends on the course and you. Based on my experience teaching in East Asia I can say that they are usually sufficient to obtain a job (when required), however there are some problems with online TEFL courses that you should know about.
What are the problems with online TEFL/TESOL courses?
First off remember that all online courses are not the same, however here is a potential list of problems.
Low quality.
Not for traditional learners.
Cheating is common.
All courses are not the same, but lets take a closer look at some of these problems.
1. Many online courses are low quality.
Some are just text based. Without a visual of teaching in action you are unlikely to remember much of anything which means you are likely to have a difficult time in the classroom. Additionally a lack of feedback and communication with a tutor leads to poor outcomes.
Many of the cheap courses on sites like Groupon are going to be lower quality and some of those not on Groupon are also going to be lower quality.
They are not memorable in the sense that you will not remember what you learn.
Wait.
Actually I can't speak for all courses, but I've taken 2: one hybrid (2 days or so in a classroom) plus take home TESOL course in 2004 and one online TEFL in 2016 and they had a few things in common.
What you should know...
The easiest way to learn how to teach is by watching other teachers in action. Some courses use only text to deliver information which can be really boring.
I took one of those cheap Groupon courses and there was no video, audio or interesting graphics. The only images that they used were generic stock photos that were hardly related to the topics being studied.
"All I have is an online TEFL that I forgot most of." - thedan663
Low quality leads to...
2. Cheating is common
I did some research and noticed that many people were indeed searching for the answers to their course.

Searches related to on the bottom of Google are based on what people are searching.
3. They are not for traditional learners
There is no classroom and there aren't any students around you. You need some self-discipline to start AND finish an online TEFL course. Of course some courses may have actual teachers to assist you, but many do not include any feedback and interaction with a real teacher.
Traditional learners may do best with a course like CELTA or another in-class course.
RAHHHH! Arguments against online TEFL courses
There are both reasonable and unreasonable arguments against online TEFL courses. Reasonable arguments are that many are low quality as mentioned above, but it's not just online TEFL it's online education.
Argument #1. "No classroom training".
A lot of the people who make comments against online TEFL courses are proponents of CELTA. Some are snobs and others are pro in-class or others maybe took a low quality course themselves possibly following the advice "take the cheapest you can get". So that is a self-fulfilling prophecy.
But...
Most in-class courses do not offer any more than 6 hours of in-class training.
Will 6 hours of classroom observation in a classroom based course make you or break you?
In-class training is good, yet it's only 6 hours. It may be okay training, but that's just the equivalent of a day of work teaching in Korea.
Is it real classroom training?
I have taken 2 courses: one online and one partially on-site course. While many on-site courses make a big deal about in-class training, an important note is that this is often done with "pseudo" students.
The "pseudo" students are people like you who are taking a TEFL course. They are NOT REAL students like the ones who you will actually be teaching.
Okay it is probably better than nothing, but likely unlike the classrooms in Asia that you will teach (especially if they are kids).
See online TEFL vs. onsite TEFL for more.
What's the solution?
A course should teach you to teach the students that you are going to teach.
And that's why I started ESLinsider.
Argument #2. "They aren't accepted".
Rarely...
I taught in China, Korea, Taiwan and I lived in Japan for 8 years. So I know the market there and only a few schools won't accept online courses. I'd say that number is less than 5% out of all the jobs out there.
Here's an example.
In Busan, Korea the EPIK program requires those who don't have related degrees or experience to have taken an TEFL course with 60 in-class hours.
But that's only in Busan through EPIK. In other cities with EPIK plenty of teachers have gotten in with an online TEFL.
But the schools that don't "accept" online TEFL courses...
The schools that don't "accept" online TEFL courses are usually some of the more "prestigious" or high-end schools and these schools don't employ teachers without experience.
These schools don't hire fresh teachers just off the boat regardless of whatever TEFL/TESOL/CELTA course they took.
These kinds of schools have preferences such as:
Experience - extensive experience (especially in the country you are applying to) is usually the best qualification.
Licensed teachers - a school may want you to be a licensed teacher in your home country.
Master's degrees - a few of the more prestigious schools such as some universities may require you to have a master's degree.
In-class courses and the above qualifications are more common in the Middle East and parts of Europe. Other than that they are accepted in most of Asia.
So an in-class course may appeal more to some schools yet keep in mind it's still not "real" experience.
"It depends on where you want to teach. In the Spanish cities that I've taught in most places don't even ask where you got your certificate, let alone ask to see it. I've never known anyone to have a problem with their online certificate. What schools are most interested in is experience." - Jeer on ESLbase
I totally agree with the above statement and I taught in Asia: China, Korea, Taiwan and now live in Japan and I'd say most schools do accept online TEFL.
Conclusion
Are online TEFL courses worth it? It depends on the course quality mentioned above and you. Do you really want to have a good experience teaching abroad? Then you need to learn how to do your job and many online courses aren't going to help you do that.
Benefits of ESLinsider's courses
Memorable visual learning. These courses are built with practical and authentic how-to videos that were shot in real classrooms w/ real students mostly in South Korea.
Training especially focused on teaching children in Asia (largest job market in Asia).
Feedback and interaction with your teacher.
Long term access. Learning takes time and many courses will only give you 2-3 months access, but TEKA offers unlimited access.
Here's a comment from Kelli who took ESLinsider's advanced course (TEKA).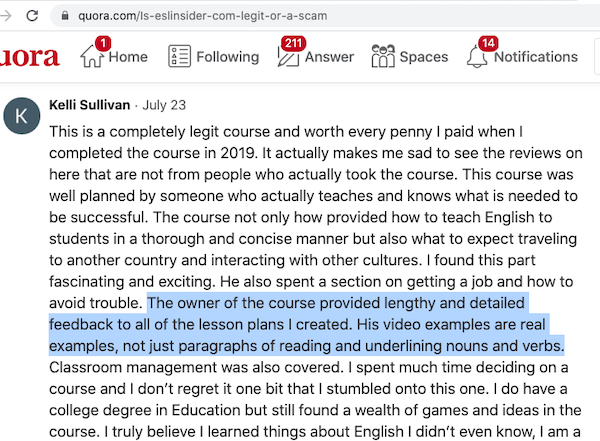 How to take an online course?
"Learning is cyclic. Take a first pass, review what you know, pause and do something else, take a second pass, pause again." - James Marcus Bach
Related:
A solution to boring & impractical online courses
ESLinsider offers practical and engaging multi-media courses especially targeted at teaching young learners (largest part of the job market in Asia).
Instead of being stressed out about your new job and thinking to yourself this is nothing like what they taught me in that course - Imagine saying to yourself, "Oh yeah, these kids are like those videos that I watched in ESLinsider's course, I know what to do."
Or...
Instead of working for a sketchy employer, with horrible management, and off the wall children - imagine working for a fantastic employer with great facilities, management that cares, and cute kids grinning from ear to ear. How amazing would that be?
"The ESL TEFL online course was worth it to me and it made a huge difference in my application to teach in China. The program itself was very informative and rewarding. I can't complain because It was money well spent. I will be teaching in Beijing this September, so I would recommend it to anyone who is looking to get certified. Thanks Ian!" - Sens