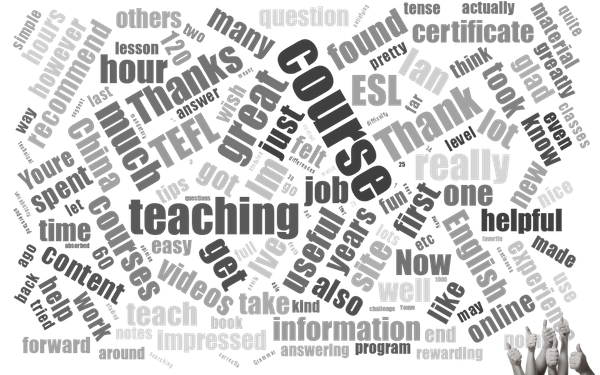 Above are the most common words that are used in the testimonials and reviews of ESLinsider's courses. There were a total of 2,504 words that I put into the word cloud generator.
The testimonials here were taken from emails or messages sent while students were taking the course. I have also included some more recent reviews here and I added a little bit of commentary to their testimonials and reviews as well.
The first course was created in 2012. That was very basic and then in the following years 20, 60, and 120 hour courses were added. The review functionality was added in July 2016.
And the course names changed in 2017.
The best course has changed names from:
120 hour course->Advanced course->TEKA
And it's evolved along the way.
Why no "120 hour" course?
Because it's just a number with no meaning.
Any online course that is work on your own pace means there are no "hours". Those are pseudo hours. I completed a cheapo 120 hour course on Groupon in 8 hours. Other people too.
Here you will find some of the older reviews and testimonials on ESLinsider.
There are also even a few critical testimonials towards the bottom of the page from people who took these courses.
Testimonials & Reviews
Let's start with some testimonials...
---
"My brother and I both signed up for courses yesterday and we're enjoying them very much. I've tried other TEFL sites and not finished simply because 1. I've never been required to be certified. 2. I've found the courses extremely long, dull, repetitive, and for the effort required to complete it, fairly uninformative.
However, now I'm doing it to encourage my little brother to get into teaching, and I find your site simple and very helpful. Thanks so much!" - Courtny B.
---
It's true TEFL courses are not always required to teach abroad. The real benefit of taking a course is the training, yet as you can see from Courtny's comment that all courses are not the same. I am not sure if she is referring to grammar, but I know that some courses do a lot of grammar study which can be very boring.
My ultimate goal is to make a course much like one would create a lesson. The best lessons are ones that are interesting, fun and informative.
---
"I am very impressed by your site and have recommended it to others - two of whom I have already noticed have signed up." - Oliver F.
---
"I'd like to say a massive thank you for putting together this website, its been a great help." - Diarmuid M.
---
Aside from the courses teachers can find a wealth of information on the site for free. There are how-to videos, guides, a blog and other resources that are all helpful.
---
"I got a Z visa in the end (as a non-native European) am in China now, in the city of Yuyao, teaching in a kindergarten - apparently also thanks to the online TEFL certificate provided by you. I need to say, I instantly remembered your videos and those restless Chinese kids, during the first lesson today. It is really not easy to get the attention of children. I will try to use some of your techniques:)" - Stepan
---
Yes, it is possible to sometimes get a legal Z visa if you are not a native English speaker. Like Stepan here I have heard off other non-native English speaking Europeans getting Z visas to teach in China. Usually you need to be a native English speaker and have a degree to get a Z visa.
Sometimes there are age requirements too. But it's not set in stone across China. Some provinces are more flexible than others and Tier 1 cities tend to be more strict.
Dolly's Review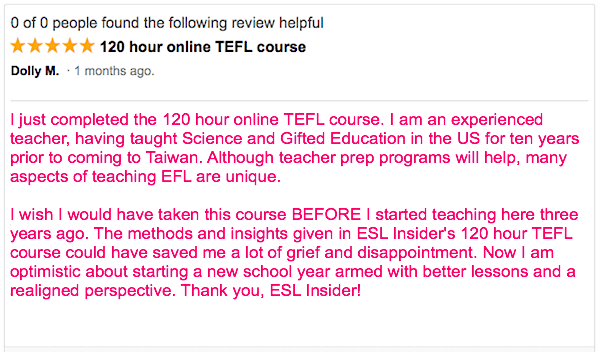 Having a background in teaching is a pretty good start. A lot of employers prefer teachers with experience and/or even a background in teaching. This will definitely help, yet as noted by Dolly "many aspects of teaching EFL are unique".
I am happy that she feels more confident about starting the new school year.
---
"I felt that the course had some interesting points about learning styles and teaching methods. It was some new stuff for me as I have never done a course specializing in ESL and also some revision of old stuff. Another useful thing was the common misconceptions." - Ella S.
---
"I am pleased to let you know that I finished the online course and I have obtained an 87%...I really liked the use of visuals..." - Ghizlane Z.
---
There are a lot videos in the course. These videos were shot in the classrooms of Asia. They were mostly shot in both hagwons and public schools in Korea. There were also a few shot in buxibans in Taiwan. These videos provide context to the environment that you will be teaching in (especially if you will be teaching in Asia) as well as training.
Lauren's Review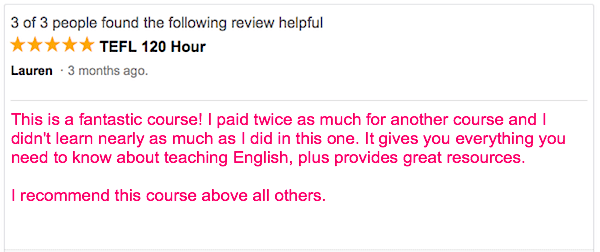 I am happy that she found the course and resources to be helpful.
---
"I learned a lot and I thought it was great! I truly enjoy your site and I use it often. Thanks for putting so much effort into helping teachers across the world. It means a lot!" - Abigail G.
---
"The course was good, a lot of very useful material to look at and read." - Chris O.
---
I really focused on practicality and usefulness in these courses and on the site in general. The course that I took initially was not very useful. In the years to come I learned a lot more practical tools that I share in these courses.
Emily's Review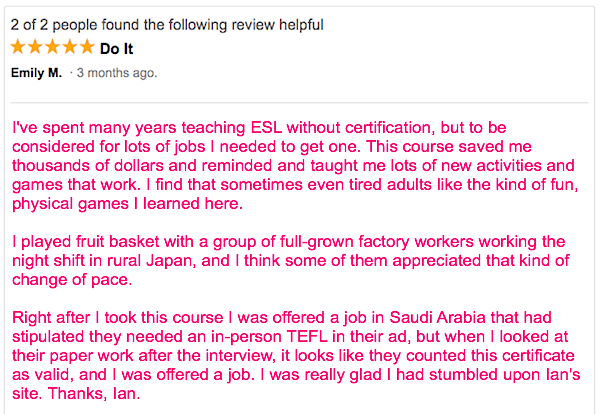 True, as mentioned before it is possible to teach abroad without certification. Using the right games and activities are also a pretty important part of teaching. These are not only for children, but they can be used for teaching adults too. Who doesn't like to have fun?
The Middle East is usually a more difficult place to get a job. Most schools there usually require teachers to have experience and/or other qualifications such as teaching licenses, master's degrees or even classroom based TEFL courses. So I am happy to hear that this online course was accepted there.
---
"When I first started the courses, I was really absorbed with the content. You've made it so well organized and completely legible. I was hooked into the experience and spent many hours straight just digging into the content. Surprisingly, I somehow ended up filling my entire coil book with notes. On average I think I spent about 3-4 hours in one sitting while going through your course." - Leonard Giang
---
Yes! It's definitely a good idea to take notes. The course was designed to be organized and have some flow to it.
---
"Overall I enjoy the knowledge I gained. I will be mentioning my certificate in my job hunt." - Nathaniel R.
---
Yes of course, it is wise to put any related experience you have and your certificate on the top of your resume.
Adriel's Review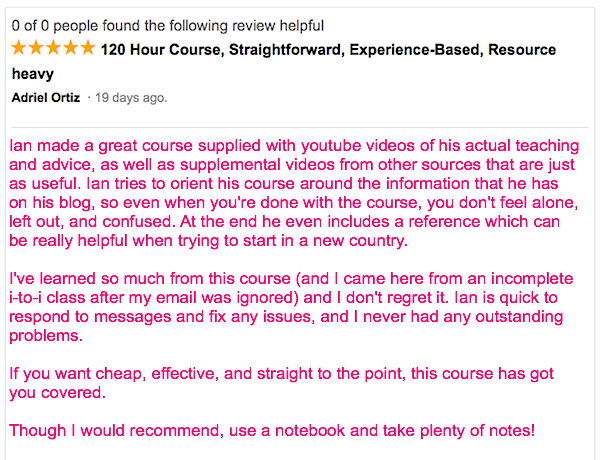 I think Adriel made an interesting point about the course and the resources. Most TEFL course providers keep everything behind a paywall and that access is usually limited to a number of months. However, there are a lot of free resources on the site such as how-to videos, guides and other helpful resources that can be found in the blog.
Adriel was also very helpful in pointing out a few issues with videos in the course. I am glad that he enjoyed it.
---
"Hi Ian! I loved the course! It wasn't really difficult, but it was not easy - and I feel like I learned a lot. I definitely plan to continue using the resources. I have applied for and set up over 7 interviews already in China.
If you add on various additional certs, like young learners and what not I would take those. I plan to take a job in China and blog about it for the year to qualify for the 1000 hour cert. Thanks so much for an awesome learning experience." - Sandra Dee Bonadonna, TEFL-120
---
Critical Testimonials
---
"I understand the level of difficulty between the courses. However, in the 20 hour course, when answering the questions, the answer could be easily seen in the text that was meant to be studied. I would suggest more of a challenge where studying the context is mandatory to correctly answering the question. Not just searching for the match to the question. That is my personal opinion.
Other then that, the material was well put. Thank you." - Sarah Gilbertson
---
Sarah's testimonial brought up a good point. When designing the course the goal wasn't to make the course more difficult for the point of it being difficult. Rather I wanted it to be a bit challenging, but not too. The content pages usually include videos or text followed by questions.
On the question pages sometimes I added the text too so that the student could refer to it again without having to go back to the content page to get the answer. I wondered whether it was best to have them refer back to the content, put it in a PDF for reference or just repeat it on the page. I did the later.
---
"I have to say, the Grammar section was my favorite. There was a lot to take away from it. While I wish the technical vocabulary has more in depth definitions/explanations, being able to work out the differences between "present tense simple" and "present tense continuous," (etc) was completely satisfying and felt quite rewarding." - Jeremy Mahon
---
I am glad that he found those explanations rewarding, but these courses don't go into great depth with grammar study. I don't think that is very useful. As I mentioned before the emphasis is on practicality. Being able to explain the differences between "present tense simple" and "present tense continuous," is not very valuable to your students.
Grammar is usually taught in context. The focus is on teaching communication not on reciting grammar definitions.
---
"Thanks Ian! You are a big reason I am here in China! Without your motivation I wouldn't have traveled so far and had all of these great experiences. It's been two years, now I am an English director for three kindergartens." - Raul Romo
---
I am glad to head that Raul is doing so well. That sounds pretty impressive. There is definitely the opportunity out there to grow. Experience can not only bring better teaching positions, but there is the possibility of managing, directing, or even opening your own school some day.
In Asia, China in particular is good place as it has an expanding job market for teaching.
About the courses

ESLinsider's online TEFL courses are well rounded, but they do focus more on teaching kids (young learners) aged from about 6-13 years old. They require the user to maintain an 80% or higher through the course and an 85% or higher on the mid term review and the final exam to obtain a certificate.
Here's a sample of the old certificate. However, it now says the course name on it. Your current options are:
The newer certificate for TEKA is much better.
Basic course
Advanced course (TEKA)
The certificate includes your name, course name and the date of completion.