If you are interested in training judo or any other Japanese martial art like: kendo, aikido, kyudo, sumo, etc. while in Japan then this post might be for you. In this post I am going to share my experience on how I did that and if you are interested in other Japanese activities like drumming, calligraphy, etc. then you may also find it interesting.
I lived in Fukuoka, Japan from like Jan. 2019 till Oct. 2020 so for like a year and 9 months. So how did I stay in Japan for so long? Well, I went over on a tourist visa and found a school that gave me a visa to stay in Japan and practice judo.
So if this sounds like something that interests you then I will share 3 different ways on how you can do that.
Here is a video about a competition for black belt I did while in Japan.
Way #1 go over on a tourist visa for up to 3 months
If you are just thinking short term then going over on a tourist visa is a possibility.
Citizens of many countries will get 3 months on a tourist visa to stay in Japan. As a US citizen you can stay for 3 months and at the end of 3 months you can leave go to Korea (the closest neighboring country) on a visa run and then come back for another 3 months. You can sometimes do that even within the same day. But if you haven't been to Korea you might want to check it out.
There are ferries, hydrofoils and planes. Busan is one of the closer port cities and it's where I lived mostly while in Korea. And many times I went in and out of Busan to Japan using the ferry or the better faster hydrofoil.
So for Japan I did this actually and the rule is you can stay up to 180 days total in a year.
Find somewhere to train
Okay this can be more difficult. Once you know where you would like to go then you can search that city for judo dojos, but don't be discouraged if you don't find much. Many dojos don't advertise. Judo in Japan is not very popular for adults compared to say BJJ dojos. Judo is more of something that is practiced in school: grade school, middle school, high school and college.
Where I got my visa was through a small private dojo. They could speak a little English and that's something that can be a challenge - finding a dojo that speaks English. Another challenge can be finding somewhere that's open to foreigners because some places are closed and just not that open to outsiders.
BJJ dojos are probably easier to find because they are more commercial where judo is not so much.
Going there and looking is a good idea too.
Where to look:
Search: judo dojo (insert city) and you might want to try that search in Japanese too.
Contact colleges in that city
Contact high schools in that city
Come bearing gifts
Colleges and highschools?
You might be able to find a temporary place to train by visiting colleges or high schools. I trained in two different colleges while in Japan and in one high school.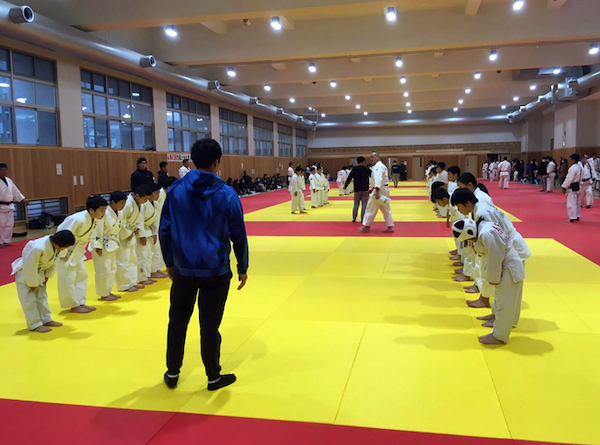 I trained on that mat (Fukuoka university). It was surreal and the nicest mat I ever trained on. But it wasn't on this day. This pic was taken from here.
The 1st college was at Fukuoka University since it was close to the sharehouse where I was staying and I had just moved to Fukuoka and I basically just showed up with my gi and sort of asked to train. I cracked the door and peaked in to this massive mat and a few students invited me in maybe thinking I was expected or just being friendly.
Think the sensei wasn't there at the time, but he showed up later and was probably thought wtf is this foreigner doing here?
It felt a little awkward at times, but I trained there for about 5 days maybe. These guys were pretty good and of course everyone is a black belt and I just a brown at the time with some ground game from BJJ. I was training BJJ at another academy too and that was good, but sometimes I craved a little more of a work out and stand up.
I was like 44 or 45 and they like 25 but I did pretty good so I thought.
But I wouldn't do what I did again. Japan is more formal and it's a little rude to just show up expecting to train. I think the professor or sensei wanted some sort of letter from my dojo in the USA and was surprised by my age and thinking I was going to get hurt. They trained hard and it was good.
I went back for more days, but the guy working in the front of the martial arts building said there was 'no judo today' on several days so I think he was indirectly telling me I wasn't welcome anymore.
Japan is kinda indirect like that.
And one thing you could do is ask your current dojo in your home country if they have any connections to dojos in Japan. Or just go and ask the sensei if you can train there.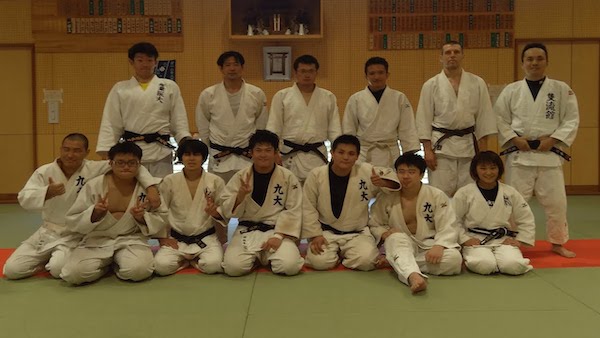 Here's a pic of me and video from when I trained with two members from my dojo at Kyushu university Kosen judo club.
The 2nd college I trained at in Japan was at Kyushu university which specializes in Kosen judo which is a style of judo more similar to BJJ. I went there for a day with one of the members from my dojo in Fukuoka. Of course I didn't initiate this arangement if was arranged by my dojo.
Here's a video from a Kosen judo competition I saw at the Fukuoka budokan (same place as my match above).
A few random notes...
They say gifts can be a good idea to bring as that's part of Japanese culture. Also as a foreigner you might get a combination of attention, unwanted attention or feel isolated and ignored at times. In my experience that's pretty normal living in Asia. It's part of culture shock.
How do you make money if you are there for only 3 months?
You can search sites like Workaway or even WOOF.
Or search:
work exchange (insert city)
These work exchange sites often don't pay money, but you could possibly work 20-25 hours a week for free housing and maybe board in a hostel or on a farm or something like that.
Where do you stay?
Hotels in Japan are going to cost you. Hostels are a cheaper option and sharehouses are likely the best. They often offer monthly rentals at affordable prices.
So way #1 means you get a ticket for 3 months or one or two. Find a dojo by using Google and coming over. Then you want to find a work exchange or sharehouse to stay in. A bigger city will be better, but Tokyo is too big in my opinion and the Kodakan there might get too many foreigners and be too popular. I actually don't know anything about that and I would just look for a dojo that is smaller.
Way #2. Come over and get a
cultural visa

for 6 months to a year

You can get a cultural visa to stay in Japan for 6 months or a year if you can find a sponsor (place) that practices Japanese cultural arts like: judo, kendo, archery (kyudo), aikido, etc. There may be other non-martial arts too like Japanese tea ceremony, calligraphy, etc.

But a key thing to know about cultural visas is that they don't allow you to work in Japan. So you'll need proof of savings.

So how I lived in Japan and trained judo was that I basically started with way #1 and then I changed my visa by finding a dojo that offered me assistance.

Ohh.

I should add that I first tried getting this cultural visa through a BJJ dojo, but that didn't work because they (the visa officials) didn't consider it Japanese enough despite me trying to persuade them that BJJ originated from judo, etc.

So then I found a judo dojo and they helped. There wasn't many that I found online in Fukuoka. I found two places where I could do train. At the first place the sensei was real stern and hardly spoke English and I hardly spoke Japanese so I opted for the 2nd place which was like 300 years old and had some people in there who could speak English and they also had a dojo in the USA.

So the process is a bit arduous and not that easy to get so I made this blog post about that here.
Way #3. Teach English in Japan
So I didn't teach English in Japan, but I did teach English in China, Korea and Taiwan and you could stay in Japan for a year or more and train judo if you got a job teaching English. To teach English in Japan you usually need a unversity degree in any discipline and to be a native speaker (although I have met some non-native English speakers teaching legally in Japan).
Additionally schools may prefer experienced teachers or training. You can learn more about the requirements for teaching English in Japan here.
You can either start off as a tourist (way #1 above) find a job on the ground there or you can try to line up a job ahead of time. So the kind of visa teachers usually get is a humanities visa and the contracts for teaching English in Japan are usually for a year although there are sometimes shorter term contracts too.
The secure way - getting a job in advance
Getting a job from abroad has advantages and disadvantages. Most schools prefer teachers already in Japan. In some cases you won't be able to choose your location which may be a problem if you want to train judo. Why? Because if you land somewhere out in the countryside (jobs like JET or Interac) then there might not be any place to train.
You have two basic options for the kind of school that you work in: public school or private (often called eikaiwa). Most public school positions hire from abroad.
JET program (won't be able to choose your location)
Interac (won't be able to choose your location)
AEON
ECC (adults and kids)
JACPA (mostly kindergarten kids)
NOVA
Gaba (one on one teaching & usually adults)
Berlitz
Amity (children)
Going there to look for a job will give you the most control.
If you go there and look you get to choose the place (city) where you live and also the housing. If you go with a program they often choose the location. If you go with an eikaiwa from abroad they may have housing which is convenient, but maybe not. If you go there and look you can choose your own housing.
Their housing may not be that cheap or convenient. It depends.
Where to look for a job in Japan?
Well, there are some companies listed above that you can contact and here a few sites on this page about getting a job in Japan.
Last words
I think if you try to line up a cultural visa in advance you won't have much like. I would go there and start on a tourist visa if you want that visa because no one will take you seriously if you send some random dojo an email and ask if they will give you a cultural visa to train there. And English isn't their 1st language and they may not speak any at all.
Besides if you are a real judokaˆˆ then you know you got to be brave and face your fears. Do your research and then go there.
But if you want to line everything up I think you will have the best luck finding a job teaching English in Japan. And then you got job security so you can go look for a place to train.
Related: