Why do you want to teach English in Korea? Maybe you know or maybe you want to know why people do that. I don't know all the different reasons why people teach in Korea. However, I do know what my motivations were and I interviewed 17 teachers in Korea and I learned some about theirs too.
I wrote a piece on Medium about why people teach in Korea a long time ago and thought I would update it and republish it here with some new information that I found on Reddit. It was a poll that revealed people's motivations for teaching in Korea.
So Korea is a popular place for teaching English. And the main reason why I think people teach there is because of the tasty looking carrot.
Mmmm, look at that Karrot.
K-Pop, K-drama, Kim-chi and Taekwondo are all cool for some people, but the main reason people choose to teach English in Korea comes down to what?
It's just like Wu tang said.
Kash rules everything around me, CREAM, get the money...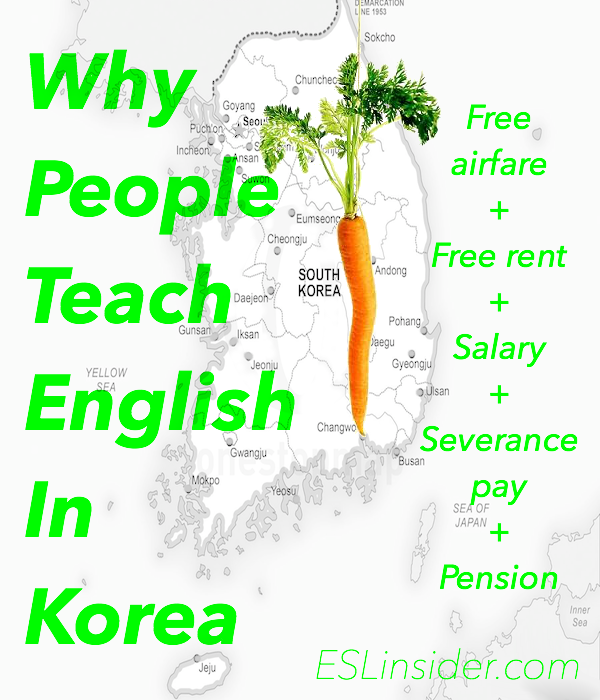 What are the benefits of teaching in Korea?
Well, potentially many, but here we'll look at the financial benefits of teaching in Korea.
For starters…
If you are qualified with a degree, a clean background check and a passport from a native English speaking country (for starters) then you can get…
Free airfare
Many schools in Korea will actually pay teachers to fly there upfront. It's part of the contract. You do have to sign a contract for one year. But keep in mind if you quit (usually within 6 months) you'll have to pay it back.
Free rent
Most schools will provide teachers with a studio apartment. Or in some cases shared housing with another foreign teacher. You usually don't have to pay for rent, but you will be responsible for utilities like: water, electric, gas, internet, etc.
$alary
The salary for teachers in Korea is about 1.9–2.1 million Korean Won a month which is about $1700–2000 or so a month. But it can depend on the school and you. If you have good qualifications or if you find a good school you might make 2.3 million won a month.
You can do a quick search for the current exchange rate. For example:
$everance pay
If you are willing to sever one of your arms or legs then they'll pay you for it. Hehe, just kidding. But if you complete your contract in Korea then you should get an additional one month's pay. Watch out for some schools that fire teachers on the 11th month. Most don't do that, but some have that experience and they won't get severance pay or a ticket home.
That's one of the horror stories of teaching in Korea.
And maybe a pen$ion
When you leave Korea you can also collect your pension. 4.5% is taken out of your salary every month and then your employer has to pay in 4.5% every month.
That's maybe equal to another month of pay at the end.
Not all foreign teachers get this though. It depends on where you are from. As a US citizen you should get it as long as the school pays into it, yet some people don't get it which may be illegal.
Yeah the benefits in Korea are pretty good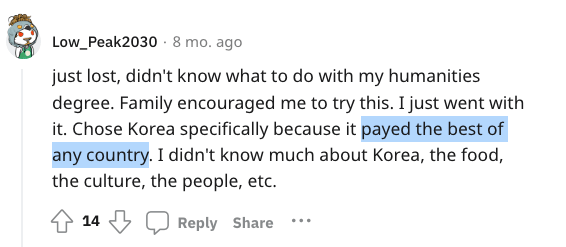 All those benefits can make for a pretty good situation. You can save some money or pay off your debt.
So if it's not the K-cash then what are other people's motivations for teaching in Korea???
Okay I just told you what I thought and you can check out these videos too for teacher's experiences in Korea, but I thought this poll was interesting.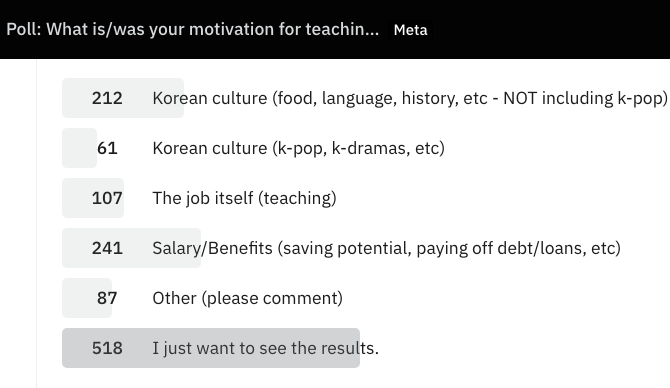 See who's first, well technically second if all the goof offs didn't just want to see the results.
I just want to see the results

Salary/benefits
Korean culture old (food, language, history)
The job itself (teaching)
Korean culture new (k-pop, k-drama, etc)
Other
I was surprised that so many people were interested in the K-pop and culture, but still wondered if the pay was half as much and you could get those benefits in another country then would they still go to Korea?
Lots of people went for relationships, to find love or something else.
"I came to find my biological family :)"
"Was dating a Korean girl in my own country and decided on Korea to be with her."
"While I'm interested in Korean food and culture, I'd still be in Japan if I hadn't met him."
"Originally I thought I could live in a new country, save money, learn another language and travel to other countries on vacation. Everything is happening except the ladder."
"Came for my first love, but it didn't work out."
Here's the og post.

Does anyone go to Korea because they want to actually teach?

Hell, no.
Just kiddingˆˆ, kind of...
Some do, but not many and that's the case for most people teaching abroad no matter where they go. I know because I was like that when I first started. I never thought of myself as a teacher and teaching turned out to be a big stress for like a year and a half.
It's not simple, so if I was to do it again then I would invest early on in training. Take courses, read books, watch videos, do workshops, etc, because that's going to make your time in Korea much better.
Most of your time in Korea is going to be spent at work and if you don't like it then it's not going to make for a fun time. And if you're just thinking short term then a year can be pretty long and painful.
You may not be a teacher at heart, but I know you can improve because I did and that will make for a better year.
Related:
Here's the course that's designed to teach in Korea. It includes a lot of information on teaching in Korea as well as how-to videos that were shot in both public schools and hagwons in Korea.