Yes, it looks like you can teach English in many places in Asia now with a few caveats.
This was an older post originally written on the COVID situation in April, 2020. But I've decided I would like to make an update to it in Dec, 2020.
The current COVID situation for teaching in Korea
I just received an email from a friend in Korea answering the question, "Can you teach English in Korea now?"
People can come to Korea to teach, but it's super-tough right now given the situation as schools are giving preference to people in the country. Hagwons are hiring but the public schools shut down hiring after spring semester and won't start again until next year. Anyone who manages to get in though is gonna have to pay for their quarantine out of pocket last I checked.

On top of that folks from the US are having a hell of a time with delays on the apostille for the FBI check (we're talking two months at least) because the State Dept.'s been partially shut down since March so nothing's being expedited. Despite the current headaches and the continuous frustrations this year, I have to be thankful I have something and am here instead of Stateside...
So hagwons are good place to be looking for work. And what about the quarantine? If you want to find a supercheap place to do your quarantine you could look into staying in a jimjiban (if you are adventurous). If not you could look into hostels which would be the next cheapest or maybe the school would put you up in a hotel.
Here's another Reddit post.
So what's the COVID situation in Taiwan for teaching?
Can you teach English in Taiwan now during COVID?
Yes, but some things have changed. Normally most teachers would fly to Taiwan to look for a job and find work teaching. But currently you have to get a visa beforehand and like in Korea you have to quarantine for 14 days. And some schools may still prefer to hire in country teachers first.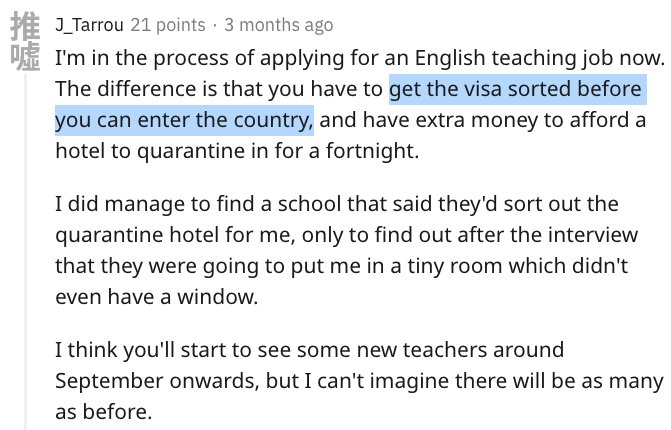 Japan and China?
Can you teach English in Japan now?
I just left Japan about a month ago in early October and at that time they weren't letting foreigners in, but that recently changed for some countries on October 30th. So it looks like you can apply and possibly get in now depending on what country you are from.
Here's a Reddit thread where I asked if anyone started teaching in Japan recently.
China?
Maybe you can teach English in China now, however I've been finding conflciting reports so it sounds like there is some limitation. And there is a new visa process called a PU letter.
Check out this thread... Although keep in mind you will find contradictory information there, but just to give you the downlow that subreddit is very oppressive.
Older post below...
---
I live in Japan... in Fukuoka. And I try to not to pay too much attention to the news since it's mostly bad news blown out of proportion, but...
So how are things in Asia?
I'll start with where I am now - Japan. Japan as you will see below was likely the last place in East Asia hit.
They originally closed all public schools down until April 17th and then around 60% remain closed as they declared an emergency here in Fukuoka until May 7th. My Japanese classes by the city were closed and about 80% of people are wearing masks.
I heard they don't really prevent catching it, but they could help spreading it which would be good if you are asymptomatic. In an update I guess some people can contract it and not have symptoms, but be spreading it unknowingly (Dr. Peter Hotez in the 2nd video).
Here is Michael Osterholm ("internationally recognized expert in infectious disease epidemiology").
That's a good video to watch if you are concerned about the coronavirus.
It will put things in perspective.
IS THIS THE APOCALYPSE?
Or...
IS THIS JUST HYPE?
He said neither one was correct. It's about 10X the flu he said. But then here in another video... Dr. Peter Hotez says it about 5-10 times as lethal as the flu. Recently I am hearing about 5 times as deadly as the flu.
April 2, 2020 update w/ Dr. Peter Hotez
Peter Hotez, M.D., Ph.D. is Dean of the National School of Tropical Medicine and Professor of Pediatrics and Molecular Virology & Microbiology at Baylor College of Medicine where he is also the Director of the Texas Children's Center for Vaccine Development (CVD).
He said, he's not sure, but for a few weeks it's going to go up. Maybe later in May it will go down and in June maybe bottom out. Then they are wondering if it will come back.
May 18th update w/ Dr. Rhonda Patrick
Are you at risk?
He said the people who:
smoke
are overweight
or have a weakened immune system
...are the most in danger.
And...
Look at the countries hit the hardest and you will see that they have some of those first two things in common.
China? Many older men in China smoke.
Italy? Many older men in Italy smoke.
USA? Many people in the USA are fat.
Is it an old person's disease?
No, not necessarily. Usually people with a weakened immune system and sometimes those are older people. But he surprisingly said that kids are in less danger than adults even though many schools are closed.
And about a 3rd of the people infected are aged 22-44 years old.
HOW TO AVOID IT
don't smoke
don't vape
drink in moderation
keep fit
avoid hyper tension and diabetes
And Hotez said...
"KEEPING YOUR BODY HEALTHY WILL DEFINITELY STACK THE DECK IN YOUR FAVOR."
Is there any thing you can take to prevent it now?
There's no silver bullet yet, but here are some easy measures you can take now that will help. See Dr. Rhonda Patrick's video above for more.
Increase your vitamin D intake. Many of the places and communities hit hard by corona had low levels of vitamin D. For example, the African American community in New York. African's have a higher level of melanin in their skin that makes it more difficult to absorb vitamin D from the sun. Plus look at California's rate compared to New York's. Where's the sun?
Increase your vitamin C intake.
Increase your zinc intake.
And know that
96% of the people who get it survive

...

Even if you get it chances are you won't die from it.

Death rate is only around 3% and as high as 10% in some places like Italy for example. Then if you get it and survive you most likely will develop antibodies (92%) to it that will protect you from getting it again.

So basically as long as you are healthy then you have like a 90+% chance that you will be o.k.

Chances are closer to 97% that you will be fine even if you get it.

97% is pretty good odds.

So why are we so freaked out?

It's because it's a new thing and it's big media now like bad news usually is.
COVID compared to...
Put things in perspective.
Compared to the flu:
COVID-19: Approximately 114,983 deaths reported worldwide; 22,109 deaths in the U.S., as of Apr. 13, 2020.*

Flu: 291,000 to 646,000 deaths worldwide; 12,000 to 61,000 deaths in the U.S. per year. - source
Just saw some media post saying...
Experts warn don't compare COVID-19 to the flu.
I hate "experts", lol.
That's a good plug to get people to pay more attention to your site.
Click bait.
Compared to car accidents
Approximately 1.35 million people die in road crashes each year, on average 3,700 people lose their lives every day on the roads.
Compared to mosquito disease deaths
Roughly 1 million deaths per year.
Coronavirus numbers in East Asia
As of May 1st, 2020...
China 82,249 confirmed cases 4,632 deaths (although some sources say this number could be 10x the number in Wuhan alone)
Korea 10,728 confirmed cases 242 deaths
Japan 13,944 confirmed cases 435 deaths
Taiwan 429 confirmed cases 6 deaths (18 days with no new confirmed cases)
Why are the deaths in the USA and Europe so high compared to Asia?
There are many overweight people in the USA with various health problems. And in Europe there are many smokers. It's a smoking culture. Even in China many older men smoke cigarettes which could partly explain why their numbers are higher than other Asian countries.
Here are some graphs...
China cases of corona virus
Between January and February.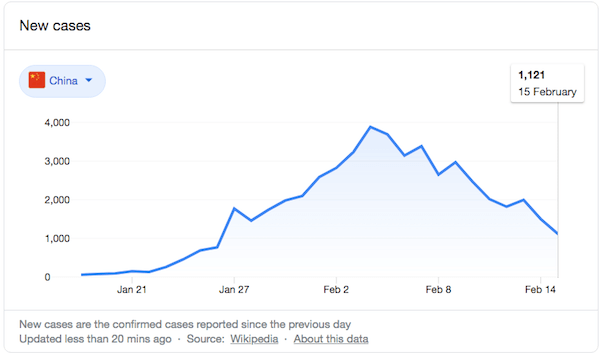 China 82,249 confirmed cases 4,632 deaths (although some sources say they covered up the actual cases)
South Korea cases of coronavirus
Between February and April.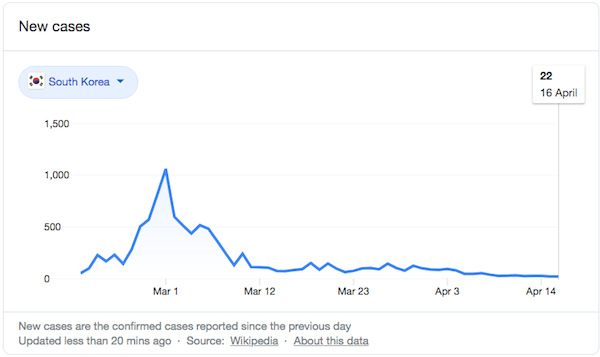 Korea 10,300 confirmed cases 222 deaths
Japan cases of corona virus
Japan seems to be the last place in East Asia that is being hit by the virus.
Between March and April.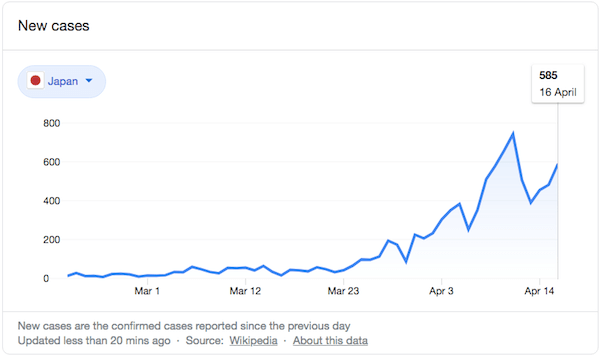 Japan 7,618 confirmed cases 143 deaths
Taiwan cases of coronavirus
Between March and April.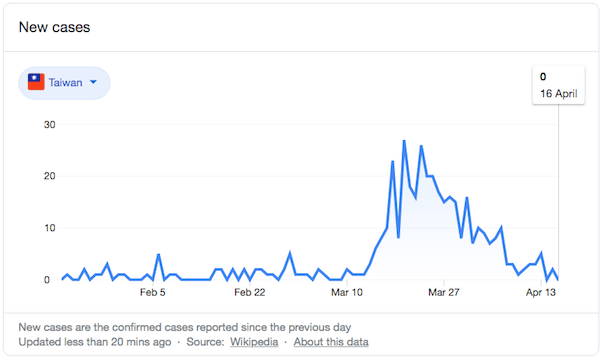 Taiwan 388 confirmed cases 6 deaths
Here's a comment from Taiwan.
Good news! The pediatric cases have been insanely low, which have lead doctors to believe that kids aren't really prone to getting too many symptoms! Yey for this here girl.
So what can

you

do now about your plans to teach English abroad?
If schools in Korea and Japan are closed till April then you can wait. But they are not all closed down. Here in Japan most eikaiwa seem to be operating. Although the public schools are closed until the 17th.
And in Korea some hagwons are closed while others are not.
You can use this time to PREPARE.
This is not likely to last forever. If where you want to teach is nearly shut down you can still prepare your documents to teach there. Like in Korea, China and Taiwan you need a CBC and some other documents.
Or...
You

can LEVEL UP your teaching game.
Take your teaching to the next level if you are currently on "vacation" or if you haven't started yet you can start because more work now means less pain and stress later.
You can start teaching ONLINE.
A lot of the private institutes that have closed in China, Korea and Japan have moved their teaching online (which is the emerging market for teaching English). It's safer to hide out from the world and teach from home. It's not quite as exciting as teaching abroad, but it might be safer.
Here's how to get a job teaching English to kids (online).
Things are improving...
Maybe not where you are, but they are in some places like where it started a few months ago...
In China.
Alibaba shut down for like a month+ but they have since resumed shipping. Here's an email I got from a supplier.

Alibaba supplier in China
So if China is representative of how things are playing out then in a couple of months things will have chilled out where you are.
And it looks like they are in Italy too.
So now is your chance to maximize your free time.
In a few months things will have improved.
Related: