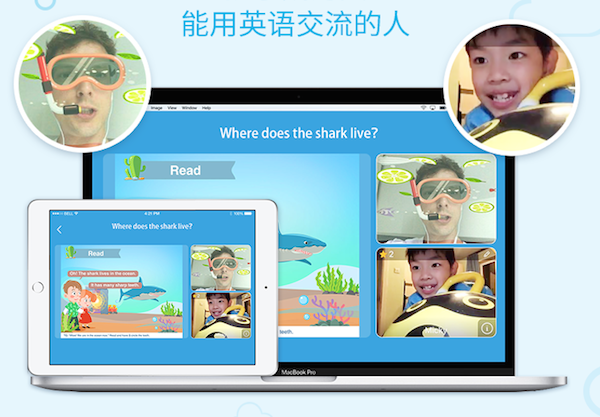 "The vast majority of the demand in this industry is for teaching kids and that's where the competitive pay is, too." - Lee355
This post focuses on finding a job teaching English online to kids. First I'll cover an overview, then some companies and finally the difference between teaching English online vs. in a classroom.
Finding a job teaching English to kids online should not be too difficult. Teaching English online is an emerging market. It's growing and it's new. There are a lot of opportunities out there for finding a job.
Children are the students that dominate the market online and offline in Asia, so it shouldn't be so hard compared to finding a job teaching adults.
So how do you do it?
Here are 3 simple steps on how to get online TEFL jobs.
1. Are you qualified?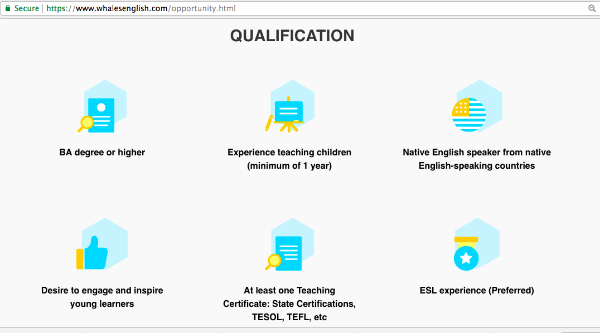 So the first step is to either get qualified or figure out if you already are. Each online school is different. The requirements to teach English online are not that different from the requirements to teach English abroad.
But...
They are often less strict since schools don't need to provide you with a visa and this is an emerging market. Perhaps in the future the requirements for teaching online will get more strict.
What are the requirements (or preferences)?
native English speaker (some prefer North American accents)
degree (sometimes not)
TEFL, TESOL, or CELTA course
experience (many prefer experienced teachers)
These are the general requirements to teach online, but I know that some teachers teach without a degree.
Do I need a TEFL certificate to teach English online? There may be instances where you don't necessarily need a TEFL certification to teach English online.
Do I have to be a native speaker to teach online?
From what I've seen it is not always required, but if you are not a native speaker you may make less money.
At the end of this article I will share an online course with you that is also focused on teaching kids.
2. Put your resume together
Do you know how you can enhance your resume for teaching abroad?
Well, the first tip I have for you is that you want to put all of your related experience on the top and for more tips you can check out the Advanced course that I will tell you about soon.
3. Contact companies
Here is a list of online companies mostly for teaching English online to Chinese students.
Palfish
VIPkid
DADA
Qkids
Magic Ears
SayABC
Whales English
Landi
Hujiang (kids and adults)
Alo7
SayABC
Gogokid
This is not a recommendation. I do not have any sort of partnership with these companies and I do not make any money from them. So you can do some research on them or look for reviews to find out if they are worth it for you or not.
For many of these companies the teaching is going to be on Beijing time: Monday-Friday 5:40pm – 8:50pm. Saturday & Sunday: 9:50am – 8:50pm.
Palfish
Teach to students one on one with the age range 3-12 years old and possibly adults for a minimum of 4 hours a week.
$16-21 an hour
Monthly payment through Payoneer
25 min. classes
Mobile phones and tablets
1 on 1
Requirements...
It's said to require TEFL certification. And some say that it is the "only" company that allows teachers without a degree or who aren't a native speaker.
VIPKid says...
Work when you want, where you want - with no commitment or minimum hours. No lesson planning. Our platform allows you to focus on what you love - teaching kids.
$7-9 per 20 minute class.
Or read my VIPkid review.
Alo7 says...
Teach English as a Second Language to overseas K-12 students (Ages 3 to 15, China). Tutors will be provided with opportunities to experience ALO7′s cutting edge tutoring platform and interactive content.
$17-22 per 50 minutes
DADA
DaDa is an online one-on-one English education platform for children between 4 to 16 years old. They say, "DaDa empowers children with international competitiveness. The foreign teachers have recognized English teaching qualifications like TEFL, TESOL etc."
$19-24 an hour
30 min. classes
Monthly pay
Requirements...
TEFL certification is not required, but a degree and being a native speaker are.
"I used to teach for DaDaABC. It's not a bad gig. The pay isn't great and they expect you to use your own time to write evaluations. But if you get a good group of regular students it can be a lot of fun. If you get the kids that just want to show off their money by saying their kids are taking private English lessons it's miserable." - Rekrabgrim
Qkids
Qkids connects 800,000+ Chinese young learners between 4 to 12 years old with you and thousands of other online teachers.
$16-20 an hour
30 min. classes
Requirements...
Requires a TEFL certification, university degree or in your last year and a preference for native speakers from the US or Canada.
mismatchedcarpet said:
That sounds terrible! I feel like I've hit the jackpot with my Chinese company. Absolutely no trouble taking days off no matter how close to teaching time I am. I don't take off often, but I've woke up with my internet out and messaged them to let them know and all was just fine.

Not all companies suck and I hope you find one that doesn't!

Which one do you work for?

I work for QKids.
Magic Ears
"Magic Ears is an innovative online English learning platform for students ages 4-12." They say you must be a native speaker from the US or Canada to work for them.
$18-22 an hour
25 min class length
1-4 students
Requirements...
Requires a TEFL certification, university degree, and for you to be a citizen of the USA and Canada.
Say ABC
Says they have an Interactive platform with pre-uploaded National Geographic lessons and that you can set your own hours.
$13-17 per 40 minute class
Groups of up to 4 kids
Monthly pay
Requirements...
It requires a TEFL certification, usually a degree, but not necessarily and preferred accents from the US, Canada and the UK.
So do your research to find out if they are hiring and if you meet their requirements.
Teaching English online vs. in a classroom
Some thoughts from others about teaching online vs. in a classroom.
The good according to sendmeturtlespls
"No hours of grading, no dealing with administration politics, no dealing with parents (mostly), no dealing with creating lesson plans, no grading hours of assignments, no going to meetings, no after school voluntold responsibilities. No being physically drained from having to manage a classroom. No dealing with student drama. I could go on."
The bad according to Aztalez
"Online is doable but not preferable.. Classes in person are more dynamic, you can MOVE around rather then just sit in front of the computer in your bedroom the whole day, and students can interact with each other way better than in breakout rooms on zoom.
Also warmers, production activities and projects are not as interesting online.. (in my experience) The good things about online is being able to work remotely and travel... However if I am in a city for a year I would rather teach in a centre, have a place to go each day, separate house from work and have the resources a centre can provide than to teach in my house all week."
Work hours
Teaching English online can be more flexible as far as the hours go. In a classroom you will have set hours and you won't get the option of choosing when you can teach like you would online.
Pay
In Asia you will probably make more money by getting a job in an actual school. Teaching online can be spotty and it can take quite a bit of time to build up your hours with a company. Hourly rates online tend to be lower than in a classroom, yet that can vary depending on the school.
The actual teaching
If you work for a company online they will likely have premade lesson plans for you which will be easier to follow than in a classroom where you will likely have to plan your own classes. It tends to be easier and classroom management problems are fewer as you are usually only teaching 1 or 2 students at a time online.
In a classroom it will be more dynamic and likely more difficult, yet also possibly more interesting as online you are limited by space. It's more still (visual and auditory) and less kinesthetic.
Flexibility
Teaching online is way more flexible as you can teach from anywhere granted you have an internet connection.
If you teach abroad you usually have to sign a contract for a year or more.
Thoughts...
Teaching English abroad is a whole body experience. Beyond the teaching you get the chance to travel and interact with people from other countries.
Teaching online is more limited to a 13" x 8" screen (or whatever your laptop's size is).
TLDR
Basically teaching online will likely be easier (if you are new), but teaching in a classroom can be a lot more fun and less isolating.
FAQ
How much can you really make teaching English online?
It depends on the company or if you work for yourself. Most companies pay between $10USD an hour and $25 with experience. Companies in China tend to range from $14-24. Companies in Japan tend to be closer to $10 and teaching adults on Cambly is closer to $10.
Can you teach English online without a degree?
You can teach English online without a degree in some schools. For example, some teachers have mentioned Palfish. Most schools require a degree though just like in the real world.
Can you make a living teaching English online?
It's possible, however it may take many months to build up your hours.
Conclusion - How to get a job teaching English to kids online
If you need to enhance your qualifications or meet the requirements for a school to teach online here is an advanced course focused on teaching English to kids. There is also a section in the course towards the end for teaching online.
So getting a job teaching English online is not that different than getting a job in your home country. Contact the companies and start your application.
Thinking about taking a course?
andrenalinepursuer's review on ESLinsider said...
"I have the ESL insider TEFL, and I've taught at 3 different online ESL companies (DaDaAbc, Brentphone, Whales English) and I've never had any problems with it."
Read more reviews on ESLinsider or here is a cheaper and faster course.
Related: