Have you ever been stressed out over which option to choose, picked the cheapest one, but then found out that it didn't work so well? So then you have to replace it and you actually end up spending more money and wasting more time in the long run.
Have you ever experienced that?
I have. The same thing could happen to you if you go with a cheap TEFL course. Being frugal and saving money is good, but more importantly you want to spend your money wisely right?
And like a sucker you might fall for that deal on a course "valued at over $1,000" on Groupon for $80. You might even get a job with it. You'll think everything is going great until you actually get to Asia and start teaching.
The horror is going to come when you find yourself in that classroom with out of control kids speaking a foreign language that you don't know, and you'll have no idea of what to do. And to add to your stress how do you think your boss will feel?
If only you had taken the right course.
There are 2 reasons to take a TEFL course. Reason number one is that you want a qualification. This certification is something that you can put on your resume to improve it. Reason number two is to learn how to teach English effectively so your students, their parents and your boss doesn't think you suck.
Reasons for you to take a course:
Take a course for certification
Take a course to learn
You can fulfill reason number one pretty easily. For "many" schools it won't matter (on paper) what course you took, so a cheap course would do.
However, a cheap course often lacks in quality so fulfilling reason number two is not as easy. Many online courses are primarily text based. And according to some studies people only read about 20-28% of the text on the page.
That means that you may only remember 20-28% of any text based course that you choose. On the other hand people tend to remember content that includes video and images more.
Cheap courses are on discount sites, but if you want more than a discount PAY ATTENTION
Chances are you don't have a lot of extra money to spend as maybe you have debt from school, so before you buy you are probably looking for a deal, a discount or something cheap.
Right?
Great, then read no more and go to Groupon since what happens after you get your certificate doesn't matter right?
Discover a course that's engaging and actually useful
I know that it's a little tiresome to hear, but some people in the TEFL world say that "you get what you pay for".
So if you want more value and to get something out of the course then read on, because you will soon discover a course that's practical, useful and engaging.
The thing is that with those cheap courses is that they are low quality and boring. They are mostly all text where you read and answer questions.
It goes in one ear and out the other.
Online TEFL courses - Groupon vs. ESLinsider vs. University of Toronto
Even though it doesn't seem like it now I'll assume that someone else will come along and put a course on Groupon for cheap. And it's safe to say that they'll probably sell it for cheap.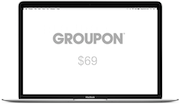 120 hour courses on Groupon cost $69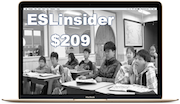 ESLinsider's advanced course costs $209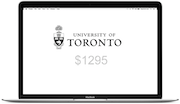 U of T's 120 hour course costs $1,295
So what will you get on Groupon?
It's probably going to:
be pretty basic
be not media rich
offer short term access
Quotes from around the web on Groupon courses:
Here's a comment from a couple that took a course for $70 on Groupon. I found their video on Youtube.
"It was a refresher course with all the rules to English. It didn't actually teach you to teach English, but... (Other person laughing) Yeah it didn't really teach you at all on how to teach English, but yeah a good refresher on all the English skills."
Another on Reddit said:
"Don't expect any more than the 'basics' from any program charging between 50.00 - 200.00."
What do you get for $209?
thorough practical training especially targeted at teaching young learners (the largest segment of the job market in Asia)
engaging media rich content (lots of videos shot in real classrooms in Asia w/ real students not actors)
unlimited access (review and repetition is the key to learning anything)
Read reviews of ESLinsider's online TEFL courses.
What do you get for $1,295
in-depth training
2 units of specialization
certificate from a university
I guess a university based online TEFL course is not that cheap. What are you paying for? The name brand. Will it give you an advantage? It will depend on the school, but in my experience teaching in Asia most schools don't care about the company name or whether it's a CELTA, TEFL or TESOL course.
A review of the university of Toronto's TEFL course.
As I mentioned before I took a course for a $1000 and thought it wasn't worth it. I thought that because of what I actually learned and could put to use. It was a kind of a general course that was considered 60 hours in a classroom and 60 hours outside of the classroom.
Ideally I needed something more practical that prepared me to teach in Asia (especially to kids).
ESLinsider's videos have received 1,400,000+ views on Youtube and over 5,000 people have subscribed

So now that you can see that it's inexpensive. I am going to show you how it's effective. This course is effective because it's:
Engaging
Thorough
Interactive
It's going to help you find a job.
1. You have to engage
Actually, to get certified you have to do more than just show up or hand over some money. Some courses will give you a certificate no matter what. As long as you pay you'll get a certificate. For ESLinsider's 60 hour course you have to maintain an 80% or higher through the course and you have to receive an 85% or higher on the final exam to receive a certificate.
But don't worry as Sandra mentions below, it's not that difficult.

So in order to get to the next topic you have to be involved. I think that you will find it engaging because it's a media rich course.
The best or rather most thorough course is currently the Advanced course formerly named the 120 hour course... What do these TEFL course hours mean?
Following that there is the 60 hour course (discontinued) and there is also a basic course which would be the shortest and quickest. You should be able to complete the basic course in 10-20 hours.
2. It's thorough
Here is a course outline. This is similar for all of the courses. This can be viewed after signing up and logging into the course. There are some differences between the baisc and the advanced course. The advanced course contains more exams, assignments and content.
Introduction
Teaching methods
The teacher as a public speaker
Learning styles
Lesson planning
Presenting language
Teaching reading
Teaching speaking
Teaching writing
Teaching listening
Teaching pronunciation and phonics
Midterm
Grammar
Using games and activities
Teaching with songs
Dealing with problems in the classroom
Classroom management
Classroom management tips
Writing your resume
Finding jobs
Culture shock
Final exam
"When I first started the courses, I was really absorbed with the content. You've made it so well organized and completely legible. I was hooked into the experience and spent many hours straight just digging into the content. Surprisingly, I somehow ended up filling my entire coil book with notes. On average I think I spent about 3-4 hours in one sitting while going through your course." - Leonard Giang
What does the course content look like?
Let's take a look at what some of the content inside the course looks like. The course uses a good deal of how-to videos that were shot in private and public schools primarily in Korea.
Content pieces of video, text, and audio followed by questions.
Assignments
Exams
The 120 hour course includes feedback on your lesson plans.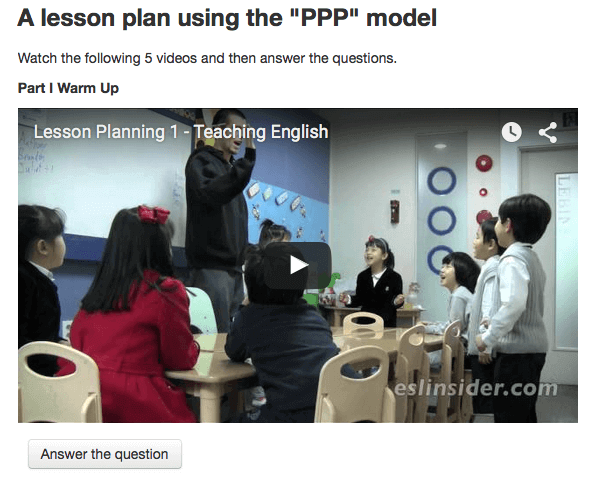 3. It's interactive
As mentioned in point one you have to be engaged. So the course employs interactive learning to do that. It does so by using different media such as video, audio, text and then Q&A, multiple choice, true or false, fill in the blank, etc.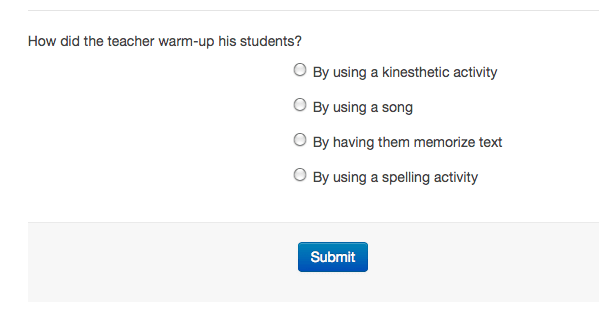 The 120 hour course also includes feedback on your lesson plans.
Over 3,000 people have already taken ESLinsider's courses
4. It's going to help you get a job
Having a TEFL qualification will help you get a job and improve your resume especially if you don't have experience.
"I have just finished and printed the title. This course is fun, easy to follow, entertaining, knowledgeable, and full of useful tips. It has been a very nice experience to have known Eslinsider... Thank you." - Sofia Patina Fontan
But are you on my path?
I spent 6 years living and teaching in Asia. I taught mostly kids aged 6-13 years old. I also taught adults a little bit and occasionally really young kids. It's a well rounded course, but it focuses more on teaching kids from about 6-13.
It also uses a lot of videos that were shot in the classrooms of Asia. So the context would be similar if you are planning on teaching in Asia. These aren't the cheapest TEFL certification courses online, but they will give you more confidence, more control and you'll have more fun in the classroom.