Are you looking for a sample online TEFL course? Or maybe a refresher course? Perhaps a "taster" course? Or maybe you are looking for just a short course.
Either way I think you'll find something in this basic course.
What sort of things will you learn about?
Here is a look at the syllabus.
"Engrish" entrance exam
Introduction
Teaching methods
Public speaking
Learning styles and are they accurate?
Lesson planning
Presenting language
Teaching writing
Teaching reading
Teaching listening
Teaching speaking
Teaching phonics and pronunciation
Grammar
Teaching songs
Teaching with games and activities
Classroom management
Culture shock
Writing your resume & finding jobs
Final exam
Certificate
Currently the topics classroom management and beyond are not available in the free option.
What does some of the content look like?
The course includes reading text, watching videos, answering questions, true and false, assignments and exams.
An entrance exam question in the basic course
Here is a look an entrance exam question in the basic course. The entrance exam is to see if your English level is up to par to teach abroad. There are currently 15 grammar related questions where you have to choose the correct response.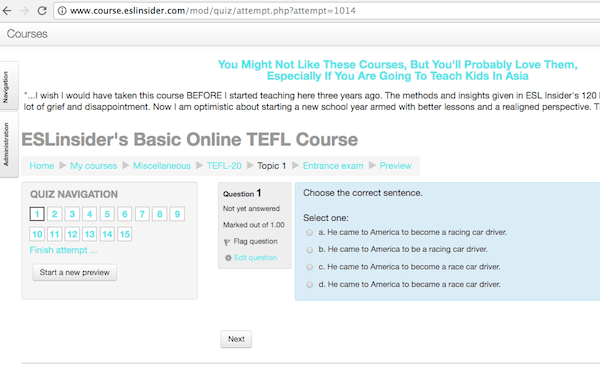 An entrance exam question in the advanced course
In the advanced course there is also an entrance exam which is slightly more extensive, but also more fun. I called it an "Engrish" exam and used some funny pictures like this.
Sometimes you will read text and answer questions
Throughout the course content and questions are interlinked together. You can't get to the next topic without answering the questions correctly. You'll need to maintain an 80% or higher to proceed.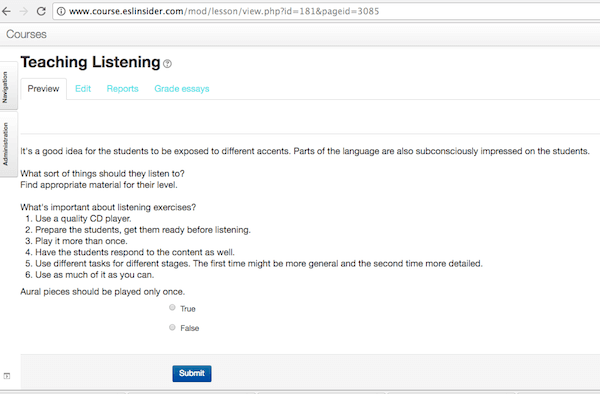 Sometimes there will be video
Video is a much more engaging than text. ESLinsider's courses include a lot of videos. Many of these videos were shot in the classrooms of Korea. So if you are planning on teaching in Korea or elsewhere in Asia I think you might find these courses to be especially helpful.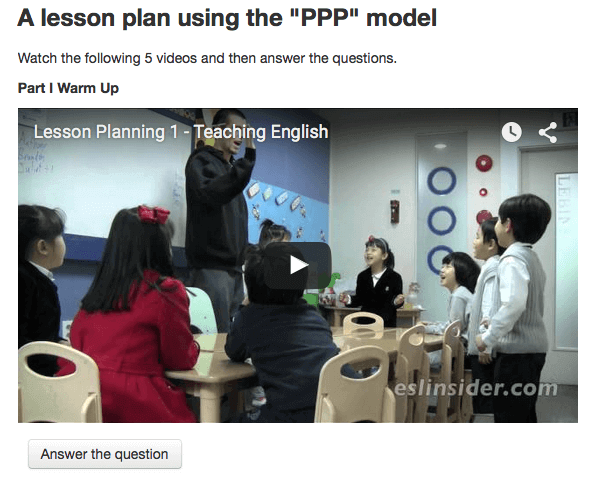 Feedback
The basic course doesn't include feedback. The advanced course does. Feedback can be especially helpful. You can get ideas on how to better prepare your lessons and/or correct any of the mistakes that you may have made.
Are you thinking of teaching English in Asia?
If so you will find a section in the beginning of the course devoted towards doing that.
You can:
Get advice from teachers in China, Korea, Taiwan and Japan (video interviews with teachers in Asia)
Figure out what kind of school you want to work in
Get the details on salaries for teachers in China, Korea, Taiwan and Japan
How to choose the best place for you (country and city not necessarily in Asia)
Try it, you might like it
You can log in right now and start the Basic course or the advanced course. Or if you are not sure you can read more articles about online TEFL courses.