Wondering how an online TEFL course works? In your average course you will read passages and then do multiple choice or answer true or false. You'll have chapters based on the various aspects of teaching and you may watch videos or see instruction in the higher quality courses. Then you may have to do writing assignments.
Quality varies between courses. Cheap courses tend to be text based and not include any human interaction.
Well, it's going to depend on the course, but for starters most online TEFL courses are "asynchronous" courses.
That means that unlike "synchronous" courses there are no set class times or hours.
But here we'll take a look at how ESLinsider's courses work from the moment you sign in to when you complete it.
1. Create an account
The first step to taking an online TEFL/TESOL course is to create a new account and log in.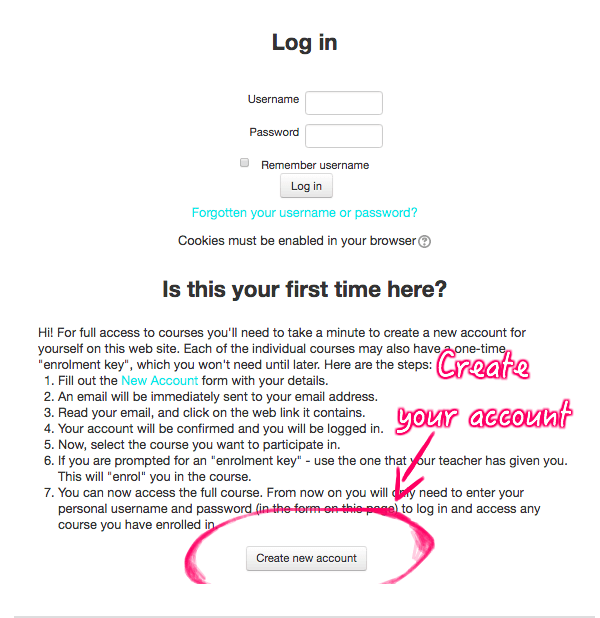 2. Register
This is pretty basic. Fill out the fields for your username, password, first name and last. Using your full name here is good as it will be printed on your certificate.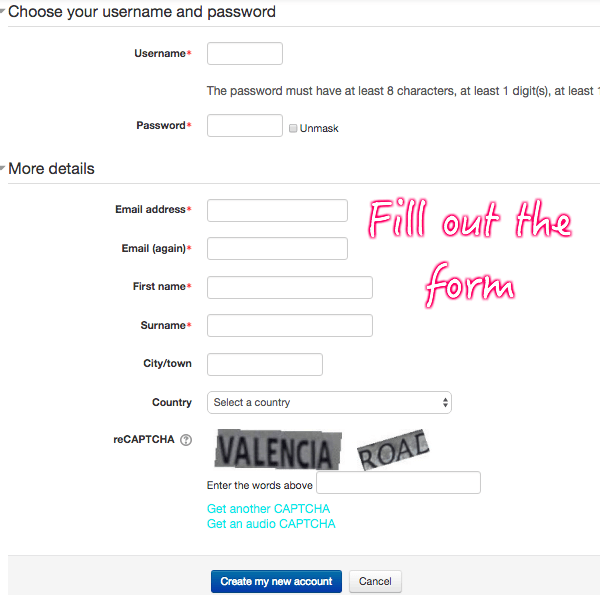 3. Log in and choose your course
After you confirm your account by email you can come back to the course to log in and then choose your course.
You have a few options. So pick the one that best suits your needs. You can check the home page for your options.
4. Pay
Most courses will require a payment before you can access material.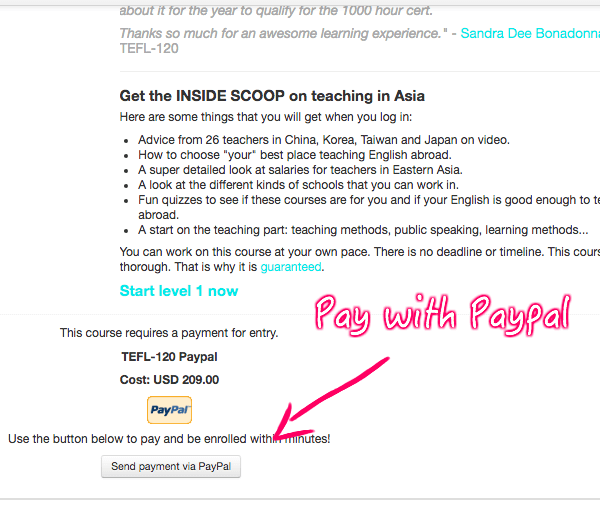 Otherwise if you choose the advanced course you will have to pay with Paypal like in the pic above.
4. Begin
Yay! You took care of the dirty work. Now it's time to start the course. This is a screen shot from the advanced course.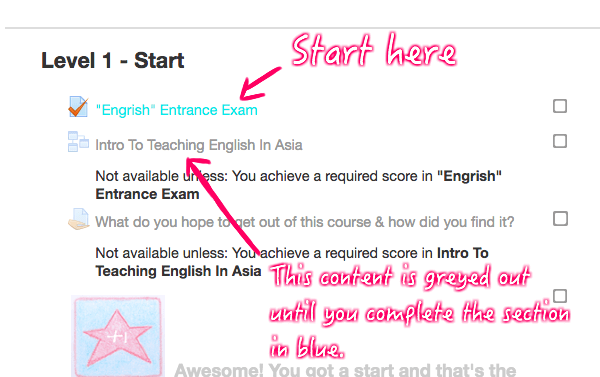 The blue links lead to content that you can access. After you complete the "Engrish" entrance exam you'll be able to access the next section in grey. You have to maintain an 80% throughout the course.
If your grade is below 80% then you will have to retake it until your grade is.
5. Can you separate the "Engrish" from the English?
This is an example of a question that is in the entrance exam.
Haha, hopefully you will get a kick out of it.
6. Continue to read and answer questions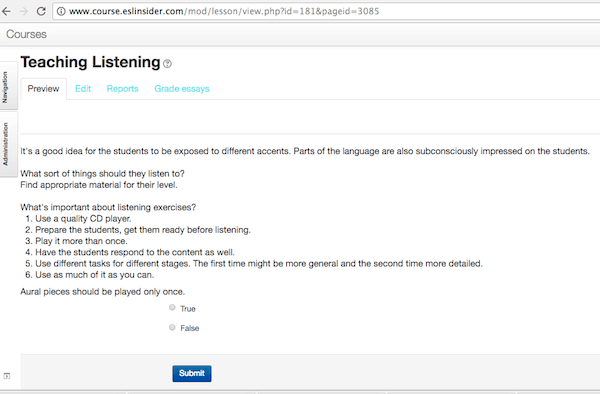 As long as your cumulative grade is above 80% you will be able to continue through the course.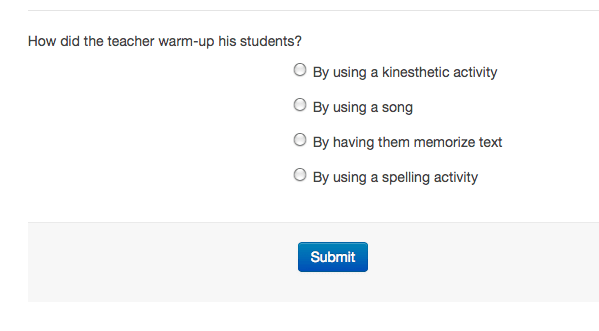 7. Sometimes you will get a VIDEO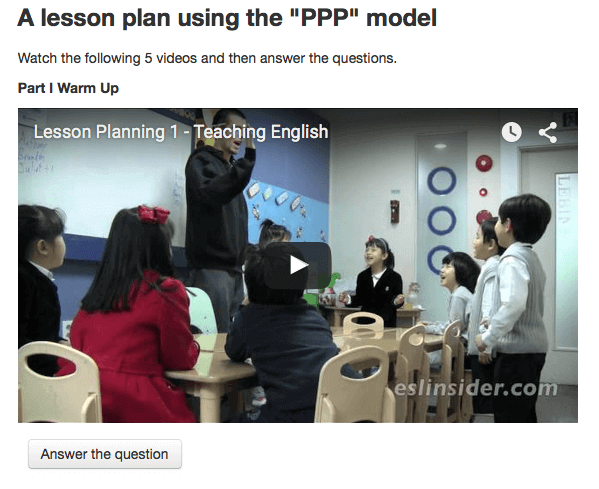 Read more about the importance of video in an online course.
8. Do the assignments
There is one assignment in the basic course which isn't graded and 4 main lesson planning assignments in the advanced course which includes feedback to help you.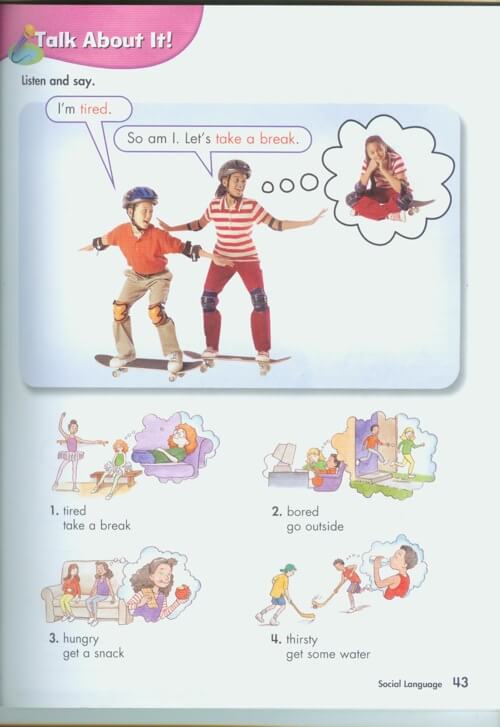 9. Continue through the course until completion
Certification is available upon successful completion of the course. A PDF download is available immediately. Unlike some other online courses you don't have to wait a number of days or weeks to get it.
Most courses have limited access to content which is usually from 2-6 months. But ESLinsider's advanced course has unlimited access, includes feedback on assignments and a ton of how-to videos.
Conclusion
Hopefully that will give you some idea on how an online TEFL course works. All online courses are not the same. I have personally taken 2 other courses aside from creating ESLinsider's courses.
The other online course that I took was text based. There were a few pictures, but there was no video. Video is really good because you can see in the classroom and see how it is being done. Despite what some of the snobs say, lol, you can learn how to teach by reading books or by reading text online.
But the thing is...
It's a lot easier to learn how to do something by watching videos than it is by reading.
Related: