Wondering what is ESL? What does it mean?
It's not a drink. It's not a drug. And it's not something like a UFO.
ESL stands for English as a Second Language.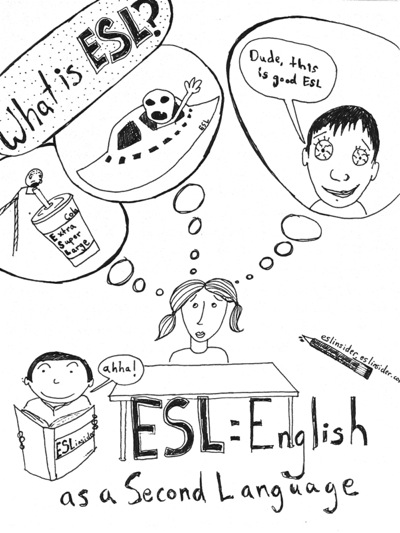 However, the term ESL is used loosely and can be confused with other related terms and acronyms like:
TEFL=Teaching English as a Foreign Language
TESOL=Teaching English to Speakers of Other Languages
TESL=Teaching English as a Second Language
CELTA=Certificate in English Language Teaching to Adults
ESOL=English for Speakers of Other Languages
ELT=English Language Teaching
EFL=English as a Foreign Language
TOEFL=Test of English as a Foreign Language


TEFL, TESOL, TESL and CELTA are also the names of courses to prepare people to teach English abroad or locally to non-native English speakers (TESOL & TESL). All four of these names relate to teaching English.
As mentioned before the terms are used loosely and interchangeably sometimes. So if you are in China teaching English you are technically a "EFL" teacher but sometimes people still say they are teaching ESL (EEE-ES-EL).
ESLinsider's course (you are now on the site ESLinsider) focuses more on teaching English in East Asia: South Korea, Taiwan, China, and Japan and especially to kids which is a large part of the job market there.