This is a guide on how to start teaching English abroad with a focus on teaching in four Asian countries: Korea, China, Taiwan and Japan. It does not focus on the teaching or training part of that. For that I recommend either the course or the how-to videos.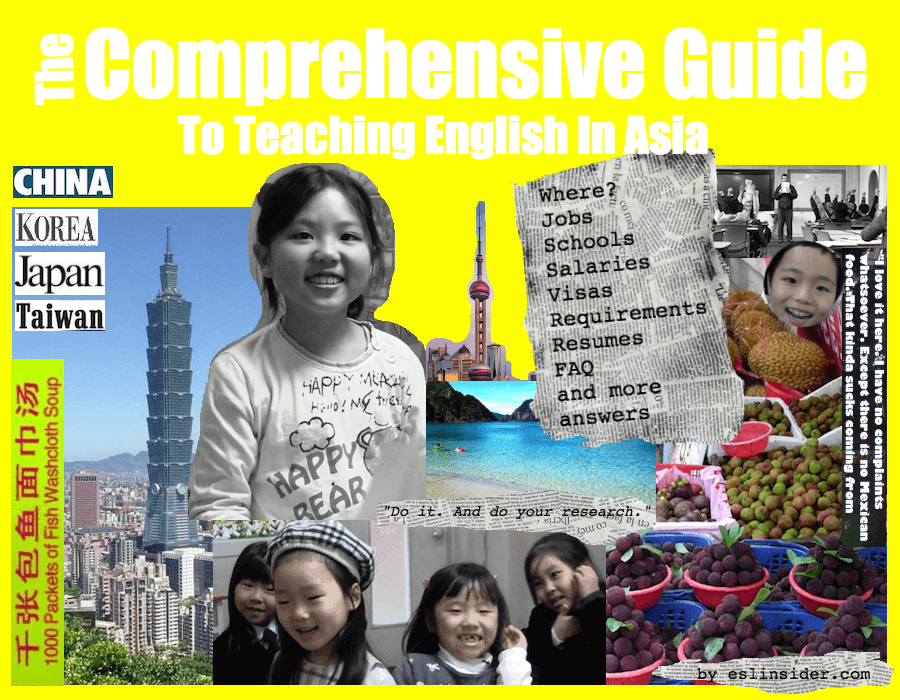 The greatest obstacle between what you want and you, is yourself
I have personally taught in China, Korea and Taiwan. I have also spent a little time in Japan, done some research on, interviewed teachers there and daydreamed about moving there. I generalize a bit here when I compare the places. So keep that in mind when you're reading along.
For example, I say here that Japan is the most formal place to teach. Which is pretty much true, however it's quite possible that you may find a school in Japan that allows you to dress casually.
Tweet this, Share on Facebook, or Share on Google+
---
Requirements 101 - Am I qualified to teach English in Asia?
The basic requirements to teach ESL in Asia are to be:
a native English speaker and
have a bachelor's degree (in anything).
You usually need those two things to get a work visa in Taiwan, Korea, China and Japan. If you have those qualifications then you can legally teach in Asia.
Each school is a little different though and some may require or prefer teachers with experience, TEFL/TESOL/CELTA certification, a teaching license, or a master's degree. It is often more difficult, but it is sometimes possible to teach English in Asia without a degree.
Other stuff you'll need:
10 passport photos: You'll need these for visas and paperwork. Smiley ones work best, just make sure it's genuine.
Passport: Have at least a year remaining on your passport. You only need six months remaining in most places, however getting a new passport is a hassle in another country.
Health check: You need to pass a fairly detailed health check. That means you can't have any infectious diseases.
Pick a place. Japan, Korea, China or Taiwan?
This guide focuses on finding the best place for you teaching in Eastern Asia, but if you are not sure about Asia then this post might help you find your best place teaching abroad.
Japan, Korea, China and Taiwan are four of the biggest markets for English teachers in Asia. These countries are all similar and a bit different. Choosing a place can be difficult when there are so many options and you are not familiar with the territory. But keep in mind some simple rules.
If you don't like big cities then you will probably not like them in Asia, so pick a smaller one or a more rural setting.
The weather in Eastern Asia can vary a bit depending on your location. But you can expect summers to be hot and humid most of the time in most places. It's going to be the hottest in Taiwan, Okinawa and in the south of China.
Any one place is not necessarily better than the other. For example, Japan is not necessarily a better place for teaching than Taiwan. It depends. You have to find what works for you, but don't merely rely on the information that you find in a few searches that sum up teaching in China, Korea, Japan, Taiwan or any other place.
Do your research. I interviewed quite a few teachers in Korea and some had problems with the food because it was too "spicy". You can find out quite a bit about a place, its customs, cuisines and more by searching the internet. Learn more about the common difficulties teachers have and culture shock here.
Japan is the most developed of the four and China the least. The wealthiest countries (GDP per capita) would be in this order: 1. Japan 2. Korea 3. Taiwan 4. China. Korea and Taiwan are pretty close.
"I think if you are a very active person and very social then I would think that you would want to live in a big city. If you are looking for a more cultural experience then definitely try some of the real small cities that are further away from the metropolitan areas.
If you are a really open minded person then you will probably really like it. If you are not then I would recommend to stay in some of the big cities where it's more westernized and insulated from the culture." - Troy Jodoin, Hagwon owner in Korea

The following is a guide to finding the best place for you teaching in Asia. I point out a few differences here between the four places. I'd recommend doing some research when choosing a place. Now we're going to take a close look at each country starting with...
Teaching in Japan
Requirements: 4 year degree & native English speaker, plus preferences for experience, TEFL certification, etc.
Job Market: Most Competitive
Average Salary: 250,000 Yen ($2,030) a month more
Cost of Living: Most expensive more
Housing: Not free, employers sometimes help find
Airfare: Only free with the JET program
Teaching hours: 22-30 a week
*These are averages expect differences between institutions
Formality
Japan is by far the most formal place to teach. Many schools will expect you to dress in a suit and tie.
Visa Freedom
You'll have the most freedom here. In Japan your employer is not connected to your visa. This means that if you quit your job, you can keep the visa and find a new job without having to leave the country to get a new visa. In the other places the employer basically owns your visa.
Cleanest
Japan is by far the cleanest place to live. The streets are pretty clean and there seems to be a greater awareness about the environment here than in the other places. For example, public bus drivers will turn off the buses at red lights to conserve resources.
Most unique
You'll see a far greater array of fashion styles in Japan than in the other places. Self expression seems to be more acceptable here than in the other places. Japan has also started a number of trends in Asia, like for example anime. You'll also find a greater diversity of music styles here. In the other three locations you'll find mostly mainstream pop music.
Hip
Japan is hip. Japan was the first country in Asia to embrace Hip Hop. You'll also find Elvis Presley imitators, low riders, and their own unique styles like Cosplay.
Westernized
Japan is also the most modern and westernized. It is a wealthy country - the third largest economy in the world, but it's considerably smaller than China or the USA. The level of comfort here will be the highest.
Polite
The people here are generally very polite and well mannered. If someone bumps into you, you'll most likely get an apology or two.
"So in Japan having a debate is a really big issue. So it's totally different. Like in America we like to argue all the time. But in Japan people don't.
Some Japanese students find it easier to debate in a different language like English. So that is always interesting to see. So that is what I like, different experiences."
-
Jeanie in Tokyo, Japan
Ring of Fire
Japan lies in the Ring of Fire. Making it a very active place with many earthquakes and volcanoes. Taiwan also lies within this area.
Knick-Knack
There are many bikes in Japan. People of all age groups ride pedal bikes. You won't see many pedal bikes in Taiwan or Korea, but here bikes are aplenty.
My Experience
I am a fan of Japan. I like the vibe. I haven't lived there yet and I know that that is a different experience from just traveling to a place, however, I truly enjoyed my time there. I have spent time in Fukuoka and in Tokyo. It's more westernized I suppose and I can find music venues there that I like.
How to get a job teaching English in Japan
You need the same basic qualifications mentioned above which are normally:
native English speaker
4 year degree
Passport photos
Documentation from your employer
Option 1: If you take a look at sites like Ohayosensei like in the pic above you'll soon see that most jobs are looking for teachers who are already in Japan. So go over on a tourist visa and look for a job. Americans get three months free right of the boat/plane. You'll need plenty of cash without anything lined up, so I would recommend $5000 or more. Hostels are going to cost at least $18-25 a night for a dorm bed.
Option 2: If going to Japan to look sounds too expensive or daunting then you can find a job in your home country. Some of the largest companies and organizations in Japan like AEON, ECC, Interac or the JET program do some hiring from abroad.
Before you start applying learn how to get a good job teaching English abroad.
Websites for finding a job in Japan
See the best websites for teaching in Japan for more. You can also find more articles here on Japan.
Youtube Vloggers in Japan
Gimmeabreakman An American who owns a language school in Japan and makes videos about his life in Japan.
Ryan Boundless An American who makes videos about his life of 15 years in Osaka, Japan.
Rachel and Jun An American woman and her Japanese husband blog about their life in Japan.
Teaching in Korea
Requirements: 4 year degree & native English speaker, plus preferences for experience, TEFL certification, etc.
Job Market: Good, but public school job cuts
Average Salary: 2.0-2.2 million Won ($1,700-1,900) a month more
Cost of Living: Medium, similar to Taiwan more
Housing: Free
Airfare: Often free and paid upfront
Teaching hours: 24-30 a week
*These are averages expect differences between institutions
Best financial benefits
Korea is one of the best paying countries in the world for ESL teachers (especially for beginners) when you add up the benefits. Free housing, free airline tickets, severance pay, a good salary (close to $2000 a month), some schools (mostly public) offer a start up allowance and a pension for Americans and Canadians make this a great place to save money.
Say "Kim Chi"
Native to Korea, Koreans love their Kim Chi. You'll find hundreds of varieties here. Korean food is often spicy.
Conservative
Korea is the most conservative of the four places. You'll find an unbelievable amount of churches here and many dogmatic Christians. Roughly one third of the population is Christian.
Most conformist
Social conformity is common in Asia. Yet, you'll find Korea to not have much diversity in styles of fashion or self expression. The norm is the way. The pop icons set the tone and everyone else follows.
Mountains
Korea is very mountainous. The highest mountain in South Korea is Hallasan 1,950 m (6,398 ft) and Baekdu in North Korea is 2,744 m (9,003 ft). Hiking opportunities are plentiful.
""Expect to work hard. I was a teacher beforehand, so I know what's involved. I know there are a lot of extra hours involved. But when I was looking at the internet I found stuff like: make sure your apartment has a TV, make sure you get holidays. It is a teaching job, so if you are just out of university or you're taking a year out I would suggest that you take it seriously."
-
Sandra's advice
Plastic surgery
Plastic surgery is the norm here. You'll find clinics all over. Even adolescent girls are getting "eye jobs". A double eyelid is highly desirable and considered beautiful. It is the most common form of plastic surgery here. A Korean friend of mine estimated that at least 60% of females between the ages of 18 and 35 have received this kind of surgery.
Pride
It is by far the most nationalistic of the four locations.
Internet
You'll find high speed internet here and good connectivity. It has ranked #1 in the world for it's internet speed.
Knick-Knack
If you go to Korea be sure to try out the "Jimjiban". It's a public like bathhouse where you can spend all day or all night soaking in hot tubs or relaxing on the heated floors. It's cheap too.
My experience
I lived there for three + years. I liked the financial situation there, the benefits are good and I usually had nice places to live in. The environment is comparatively cleaner than China and Taiwan, so I liked that too. And I found it pretty easy to get out of the city and up into the mountains.
However, I am not a big fan of Korean culture. It's best to live somewhere you are interested in.
How to get a job teaching English in Korea
You have a few options. But make sure that you first have the right qualifications and such. Aside from the basic qualifications the paperwork to teach in Korea frequently changes, so it's always good to check with a recruiter or your school to see what the current requirements are. But you'll need your degree, some other paperwork and stuff such as:
Sealed University Transcripts: They used to be required at all schools, yet last I knew they were only required at public schools.
Passport Photos
Health Check: You'll need to be able to pass it and be in good health.

Option 1: Find a job online from home. This is what most teachers do in Korea. You can arrange a job and accommodation in Korea from your home.
Option 2: Go to Korea and find a job. This is how I got my first job in Korea. The good thing about doing it this way is that you get to interview with the school in-person. There are a lot of advantages to doing it this way. The disadvantage is you have to pay for your ticket.
Your ARC will be issued after you have completed the visa process and this is what it looks like.
Before you start applying learn how to get a good job teaching English abroad.
Websites for finding a job in Korea
Dave's ESL Cafe is probably the best place to find a job in Korea. If you are interested in Busan I also found 2 of my jobs on PusanWeb.
Youtube Vloggers in Korea
Eat Your Kimchi A Canadian couple who blog about their experiences living in Korea and also about K-pop.
Charly Cheer An American girl who blogs about her experiences in Korea. She has also taught in Mexico.
Teaching in China
Requirements: Usually a 4 year degree & native English speaker, plus preferences for experience, TEFL certification, etc.
Job Market: Good
Average Salary: 4,500-15,000+ RMB ($700-2,400) a month more
Cost of Living: Cheapest, but big cities like other places can be expensive more
Housing: Often free sometimes not in big cities
Airfare: Reimbursement at contract completion
Teaching hours: 18-25 a week
*These are averages expect differences between institutions
Economic change
China is changing faster than any other country. It has one of the fastest growing economies in the world.
Pollution
As you have already heard China is pretty polluted. The average person is not that environmentally aware and many are completely careless. While out for a walk it's likely that you'll see someone just throw their empty cup or soda bottle in the street and nobody (except for you maybe) will say anything. In a local restaurant - not a fancy one, customers will throw their napkins and cigarette butts on the floor.
On a positive note you'll find loads of electric bikes here. I have also seen electric buses and windmills in Shanghai, which for a megacity is considered much cleaner than others less than half it's size. So it seems as if things are getting somewhat better. You'll also find trash and recycling receptacles on the streets. Oddly enough in Korea you'll be hard pressed to find a public trash can on the street.
Language
Mandarin Chinese is the world's widest spoken language, hence China's large population. It's a tonal language with four tones and simple grammar. Many foreigners come here to study Chinese.
Cities
Life and salaries for teachers will often be different in a small city than it will be in a megapolis like Shanghai. You'll find more opportunities in Shanghai, Beijing or in Shenzhen for finding higher paid work.
The Great Wall
Did you know that you can see the Great Wall from the moon? Probably not, but China is steeped in history and you'll find loads of historical monuments/buildings here. Given it's history, it's changing faster than the other three places. However, it's government is still changing relatively slowly, like many other governments in the world.
Unfortunately most of Taiwan's and Korea's historic buildings have been decimated.
The Firewall
Along with the "Great Wall" China has a "Firewall" and what you can access online is somewhat censored. They have become more open, but there is no access to websites like Facebook or Youtube here. There are ways around that, but the internet is still pretty slow here.
"...Especially in Xiamen, the living standards are cheap. You can make less than $2000 and you would only be spending 3 or $400 a month. Initially the school helped me to find suitable housing, but later on I looked for my own apartment."
It's for the "unqualified" teacher
China is one of the easiest to find a job in (of the 4 mentioned here) if you don't have a degree or you are not a native speaker. Easiest doesn't necessarily mean it will be for you. Most jobs will require or prefer the teacher who is a native speaker and who has a degree. That is what you will usually need for a Z visa.
My experience
I lived in Shanghai, China for more than 6 months. I also did some traveling around Shanghai and went as far south as Xiamen and over the years I took many short trips for visa runs to Hong Kong. I found China to be surprisingly more open than Korea. It could have been because I was in Shanghai, but even though it's a communist country it didn't seem so different. I enjoyed speaking and learning more Chinese.
I found it to be a bit crude though with all the spitting and hawking. I might go back to travel or visit, however I don't think would live there again.
How to get a job teaching English in China
You usually need a Z visa to legally teach English in China. From what I understand some provinces in China can have slightly different requirements in regards to Z visas that may be a little different from the following:
Diploma Copy
Invitation Letter (from school)
Passport Photos
Health Check
2 years post graduate work experience
24-55 years old

http://www.fmprc.gov.cn/mfa_eng/
So if you have those qualifications then there are a few ways to do it.
Option 1: Line up a job from your home country and get the Z visa before coming to China. See the websites below and start applying. However, many schools will not work this way, which may lead you to...
Option 2: Get a tourist (L) visa and enter China on that. You can usually get one for 30 days and extend it a couple of times. Longer is better and get an multiple entry visa if you can. After you find a job you will leave the country (go to Hong Kong) to apply for the Z visa and then return. The rest of the process can be done from within China. The benefit of this is that you get to check it out in person before committing.
If you are a US citizen visas cost around $140. Citizens of other countries only pay 160 Yuan.
Before you start applying learn how to get a good job teaching English abroad.
Websites for finding a job in China
http://www.eslcafe.com/jobs/china/
Youtube Vloggers in China
Serpentza  A British South African that has been living in China since 2006.
Teaching in Taiwan
Requirements: 4 year degree & native English speaker, plus preferences for experience, TEFL certification, etc.
Job Market: O.K.
Average Salary: $NT600 an hour/$NT50,000-60,000+ ($1,550-1,900) a month more
Cost of Living: Medium, similar to Korea more
Housing: Not free or usually included
Teaching hours: 15-25 a week
Airfare: No
*These are averages expect differences between institutions
Most exotic
From the unearthly Dragon Fruit and the Yen Shui Fireworks Festival to the Bin Lang Xi Shi, you'll feel like you're in a different land here. The Tropic of Cancer runs right through Chiayi, Taiwan. The environment here is tropical like and you'll find the weather to be hot and humid. The north of the island is much wetter than the central and southern part of the island. Instead of snow days, here you'll have typhoon days.
Roughly one third of Taiwan is urban, very urban and populated. Over 23 million in an area the size of Maryland and Delaware. That third is pretty much plains and the other two thirds are a different story. Outside the urban third you'll find mountains nearly 12,000 ft. tall, hot springs and some nice beaches in the very south and on the beautiful east coast of Taiwan.
Great fruit
You'll find a wonderful selection of exotic fresh fruit here. Dragon fruit, lee chi, wax apple, longyan, guava, mango, papaya, and many more wonderful fruits.
Vegetarian
If you're a vegetarian then you might like it here best. You'll find many vegetarian restaurants that cater to Taiwan's large Buddhist population. There's no meat here, although you will find many things that look like it. There's no garlic or onions neither, and the food is still quite tasty. It's often the best place for vegetarians in Asia.
Pollution
Taiwan and Korea seem to be similar in terms of pollution, but I'd say Taiwan is more polluted than Korea. That's because there are millions of scooters in Taiwan. They are convenient and fun to own, but unfortunately many are two strokes and contribute greatly to air and noise pollution.
"What do you like about Taiwan? Everything that England hasn't got. We've got great weather. It's a good lifestyle. It's a really easy lifestyle. You work 5 or 6 hours a day max and you have weekends and evenings free. You can have a..."
Friendly
Taiwan is known for it's friendliness. It's a pretty welcoming place. I remember soon after I arrived, there was one night when I was out looking for a laundromat. I happened to bump into a group of teenage girls on the street and I asked them where I could find a laundromat. They said there wasn't one around and then one of them said she could help and took my laundry home to her house to wash and brought it back. How's that for friendliness?
Knick-Knack
If you go to Taiwan make sure you try the green Free Go bus. You can travel between cities in Taiwan on a bus with large comfortable chairs while watching movies. Very nice! It's cheap too.
My Experience
Taiwan was the first place that I went to in Asia. I lived there for two+ years. I like Taiwan and I have some good memories from there. I found people to be pretty friendly. What got to me there was all the noise and pollution mainly from scooters. If I was to go back I would go to either Taipei or somewhere on the beautiful east coast.
How to get a job teaching English in Taiwan
Most people go to Taiwan to find work. That's the way I did it and everyone else I knew there did it. Prior to going I did interview with a school there that would of hired me from abroad. But I still would of showed up on a tourist visa and done all the visa stuff there. Only a few schools hire foreigners outside of Taiwan. That means your chances of finding a job from home are way lower than if you were there.
4 Year Degree - Some schools will accept a 2 year degree with a TEFL/TESOL certificate
Passport Photos
Background Check - Some schools, like Hess for example, may require this, however I never had to do this or even heard of friends doing this.
Option 1: You could just show up without a visa in Taiwan and look for a job. You'll get a 3 month visa free entry. After you find a job and that's finished you'll have to leave and go to Hong Kong (the closest place for a visa run) and apply for a new visa. Three months is plenty long to find a job and after you find a job it can take up to a month to process the visa and then you will have to do a visa run.
*Update. I would do this instead of option 2. Back when I taught in Taiwan I only got a month long landing visa, but they changed that in recent years. This is much better.
http://forumosa.com/taiwan/viewtopic.php?f=35&t=120746
Option 2: You could apply for a two month or more multiple entry tourist visa that's extendable. They do cost money. Then fly to Taiwan to find work. But don't tell them that you are flying there to find work. Just say that you are going there to travel and/or use Taiwan as a hub while you travel around Asia. Or to visit friends (although they may ask for numbers).
I now recommend option 1 or 3 if you want to study.
Option 3: Sign up for Chinese classes and study two hours a day to get a student visa. This can be good as you won't be dependent on an employer to get a work visa. This method will also work with the other countries. There can be a minimum amount of study hours that you will need to get a visa. The article on teaching without a degree also goes into detail on this.
More on visas in Taiwan:
Before you start applying learn how to get a good job teaching English abroad.
Websites for finding a job in Taiwan
Youtube Vloggers in Taiwan
M13 Vlogs about dogs, bikes and life in Taiwan.
Still not sure where you should teach?
Learn more about which place is for you with the following articles.
How do they compare?
Follow ESLinsider on Twitter for more connections and insight from other teachers in Asia.
Do I want to teach in a public or a private school?
Most teachers in Asia will find themselves working in either a public school or in a private institution.
Public schools
The working hours in public school are usually from about 8:30-4:30 Monday to Friday. Teaching about 4-5 hours a day and the rest office hours with maybe a couple of weeks off (or if you're lucky months of paid vacation). Many public schools have camps in the summer and winter which cuts down on vacation time. Student numbers range from about 20-45 students per classroom. Usually you will have a partner teacher in the class with you.
In Korea and China you don't need a teaching (license) certificate to teach in a public school. Most public schools in Taiwan will require you to be a certified teacher and have a degree in education. TESOL/TEFL certificates are not a replacement.
In Japan you can work as an ALT assistant teacher. These are often considered pretty good jobs - at least the JET program, however there's a longer process (close to a year for the JET program) to get into these and they usually do not hire throughout the year. Oddly enough in China many people get hired through companies (private) to work in a public school. The teachers I knew doing this in Shanghai did not have degrees or qualifications.
In Korea programs like EPIK place teachers in elementary schools. Many teachers say they like working there more than in private schools. What I think they like is the easier going work schedule (fewer teaching hours), stability and the vacations (at some). At JET and EPIK you are more of an assistant teacher which could be good or bad depending on you and your situation.
The materials and system are a bit dated or at least were when I worked there. They do use advanced technology in the classroom, however the content is not very. Much of their "English" class is taught in Korean. Thus the classes are not total immersion classes.
Remember that while public schools tend to be more uniform there still can be individual differences between schools.
Public schools
The good:
Fewer teaching hours
Possibly longer paid vacations
Monday to Friday
Organized
Stable
Plenty of time to plan lessons
Partner teachers. Teaching may be "easier" as you share duties and you'll have support.
The not so good:
8 hours a day
Dated materials and system (I thought that somewhat while teaching in Korea, but their materials could have changed since then.)
Student's English level is less proficient
Large classes
Less individual involvement
Partner teachers
Less independence
Less control
The lowdown on teaching in a public school
In Korea and in Japan your role is of an assistant teacher. If you are a beginner and/or you like working with people you may like it, but if you are a very independent person you may not. You are more likely to be told what to do. Some people say your partner teacher can make or break your experience. You have less autonomy here.

In Taiwan you also have assistant teachers in a public school however, you are given more responsibility and you need to be a licensed teacher in your home country.
Private schools aka Hagwons, Buxibans, Training Centers, and Eikaiwa
Private schools called hagwons (Korea), buxibans (Taiwan), training centers (China) and eikaiwa (Japan) are numerous. After the kids finish public school many are off to private schools to learn more English, math, music, etc. For some it's a solid day of 12 hours+ of school! They are essentially "businesses" and some are very large companies and franchises.
Generally, students attending private schools have a much better command of the English language than their friends who only learn English in the public school system. In Taiwan, buxibans pronounced "bu-shee-bans" are also known as "cram schools" - which I think refers to the intense learning and teaching atmosphere that can take place in a private language school.
In Korea teachers can often teach five to six 50 minute classes in a row. The working hours for a full time job vary; like for example, 9-6pm or 10-5pm (kindergarten and elementary) and 2 or 3-8 or 9pm (elementary and middle school). Average full time teaching hours are about 30 a week in Korea. Japan and Taiwan are probably closer to 25 and China about that or less. I never worked much more than 6 hours a day teaching at a private school in China, Korea and Taiwan.
Sometimes you may have to work weekends in a private school. In Korea I did not, but in Taiwan I sometimes had to teach on Saturday morning for a few hours. In China I worked on Saturday and Sunday and had 2 days off during the week.
If you teach in a kindergarten in Taiwan, you'll likely get a 2 hour lunch break. Classes are on average 50 minutes long. They could also be 30 (kindergarten), 40, or even 90 minutes long.
ESL is big business in Asia. Some teachers have had poor experiences working in private schools. Being businesses some open to only end up closing down a short while later. However, I never experienced that personally, but I have heard that can happen. Like other businesses the more students they have; the more money they can make. That's not to imply that all private schools are "bad". Conditions can vary a great deal between them. I think private schools have received a bad rap.
Private schools
The good:
Sometimes higher pay
Often shorter work hours
Often more independence in your teaching
Often better materials/books
Often newer facilities
Fewer students
The not so good:
Maybe not as stable
Sometimes many classes in a row
Sometimes more teaching hours
Sometimes you'll work weekends
Sometimes less organized
You may find an occasional shady business
Less vacation time
Other kinds of schools
There are other schools that you could teach English at in Asia not specifically mentioned here, such as: international schools, colleges and universities. Depending on the school and country you do usually need better qualifications to teach in these kinds of schools.
Learn more about private school and public school teaching.
What age group do I want to teach?
You can teach anywhere from kindergarteners to adults. ESLinsider focuses mainly on teaching kids from kindergarten to middle school, with the heart of it being elementary. The majority of private schools in Asia are aimed at teaching kids (aged about 7-13). And this is the sector where you will find the most jobs. Private adult schools exist as well although they are certainly fewer in number.
Do you like kids? Chances are that a school will ask you that question when you interview with them. Kids can be fun, cute and also loud. Their minds are open and they are developing quickly. Basically, the younger they are the shorter their attention span is.
Kindergarteners
Young children and especially kindergarteners can be quite affectionate. Kindergarteners will likely want to give you hugs and touch you. They are little kids, so they can be very sensitive and even cry occasionally. You won't have to worry about taking them to the bathroom, helping them to eat or anything like that. There are always native teachers on hand to do those things.
Elementary students
Elementary students are curious and bright. Their English level is higher. They can be similar in some ways, like they will like a lot of attention and be sensitive, but they are more mature.
Teens
Middle school students and teens can be fun too. Their English level can be surprisingly high. But they are often the moodiest.
Adults
Adults can be enjoyable to teach as well, as their English level is even higher and they can be easier to relate to for some. They will want to learn English that can be put to practical use in their lives. They can be sometimes more motivated to learn English than kids, as they're usually not required to be there by their school or their parents and they don't necessarily need games for motivation neither.
However, that being said, they could be there because their employer wants them to be. One reason why I like teaching children is that they are free of the inhibitions that adults and even some teens tend to develop in regards to learning. They can be a lot of fun. Some adults can be somewhat fickle, have inhibitions about learning and be a tough nut to crack.
How to Write an Effective Resume for Teaching English Abroad
Below you will find some instruction and some examples of how to write a:
Cover letter
Resume
Reference letters
Each can also be used as a general format to follow. These are pretty standard models that I learned at my first TESOL course. Along with these documents you will need a passport like digital photo that can be included with your resume. Smiley photos typically work best.
Cover Letter
The cover letter introduces your resume, so in your first paragraph you should state your basic qualifications for the position such as a degree, related experience and any other credentials you may have. The body of the cover letter should point out why you are best suited for the position. Point out your qualities that you think suit you for the position regardless of your experience. Be creative and use colorful words like those in italics below. Lastly let them know when is a good time to contact you.
Example
Dear Director:
My name is Will Way, and I am a United States citizen. I have a Bachelor of Fine Arts degree from the University of Arizona. I also have experience working as an English tutor and Math teacher. I am currently looking to secure an EFL teaching position in (???????). I have always been fascinated with the culture and would like to learn the language of your country. At this time, I would like to immerse myself in the culture not only to learn more, but also to experience your wonderful country and its people first hand. I would love to learn the (??????) language and I feel that the only way for me to truly learn the language is to immerse myself in the language.
I would also love to travel and see the beautiful lands of your country. Most of all I feel that teaching the (???????) children of your country would bring great insight into my understanding of (??????) while at the same time providing cultural enlightenment. As you can see from my resume I have a diverse and varied background from which to implement my teaching skills. I have been a snowboard instructor for 1 year teaching primarily children but also adults up to the age of 55 years old. I have compassionately and patiently assisted developmentally disabled adults as a residential aide.
My artistic talent and creative attributes will be a great asset in the classroom and be beneficial to all. Although my formal teaching experience is minimal, I will be able to take the essence from what I have learned in my various experiences. You will find that my personal character is suited for teaching (????). I have abundant energy, enjoy sports, being creative, and I am patient. I have a sincere love for (????) and enjoy creating a comfortable atmosphere where students can learn and also enjoy themselves. I am very creative and know how to keep students busy whether it is through games, arts and crafts, or other activities.
I wish to secure a teaching contract at your select school beginning in (??????). The best time to call me would be (?????????) I will be at home at this time. 1-999-628-2656 or you can contact me here at [email protected] . I will be looking forward to your call or email.
Sincerely,
Will Way
Writing your resume
One of the key things to remember when writing your resume tailored to ESL is to keep it simple. You most likely will not need phone numbers, dates of employment, and contact information from your previous employers. Remember they are in another country. It's quite unlikely that they will be calling your last employer to see if you showed up on time. Employers will be looking first for teaching experience.
If it's your first time they will be looking for any related experience to teaching and a degree. It's best if you can dig up any related experience to teaching and point that out or find a way to relate it to what you have done to teaching. Organize it from the most related to the least related.
For example: if you look below, while Will has not taught English before he has worked as a tutor and did teach Math. So he put that at the top of his resume. Also if you have any experience working with kids put that down. You'll likely be asked later "Do you like children?"
Find a way to relate what you have done to teaching and point that out. While they may be looking most importantly for related information. Certainly include your accomplishments, as well as anything you're proud of or that makes you stand out. List any organizations, associations or teams that you were a part of.
Put the most important information towards the top:
Your personal info (name, address, contact info.)
Your education (degrees and any TEFL/TESOL certification)
Any related experience
Example
Will Way
Haverhill, Massachusetts, USA
(609) 845-2232
Personal
Date of birth: April 1, 1980 Manchester, Vermont, USA
Education
2002: University of Arizona, Tucson, Arizona Bachelor of Fine Arts (painting emphasis)
1998: Sticks College, Brevard, North Carolina
Member of:
TESOL www.tesol.org
KOTESOL www.kotesol.org
ASIATEFL www.asiatefl.com
Work Experience
English Tutor
I tutored 3 junior high school students. Assisted them with poetry writing and reading comprehension.
Math Teacher
I taught a summer course in Geometry to high school students.
Snowboard Instructor
I organized and taught group lessons in snowboarding to children and adults between the ages of 6 and 55 years old.
Social Worker
I worked as a residential aide to handicapped adults. Responsible for their general well being, personal care, organized and planned daily activities, and entertainment.
Creative Artist
I worked as an artist creating various pieces and projects for display in gallery exhibitions, juried exhibitions, magazine and newspaper publications. Personally created the website www.willway.com which encompasses my work as an artist.
Other Work Experience
Computer Assistant
Monitored a computer lab and assisted students using computers. Responsible for the overall use of the lab.
Snowboard Park
Monitor Worked on a team to patrol, overlook, and support the overall flow of snowboarders with their use of jumps and obstacles within the park. Helped construct and maintain jumps and obstacles.
Other Achievements
Overseas Travel: Greece, Hungary, Czech Republic, Italy, Germany, Switzerland, France, Austria, Spain, Netherlands, Belgium, Thailand, Japan, China, Hong Kong, South Korea and Taiwan
Awards
The Amy Whalen Fine Arts Scholarship. Sticks College, Brevard, North Carolina
1st Place: juried art exhibition. Beasley Gallery, University of Arizona, Tucson, Arizona Foreign languages 4 years of French in high school and college. 1 year of Mandarin Chinese 1 semester of Spanish Associations Member of various basketball and soccer teams
Artwork director for the student yearbook staff
Personal Interests
Learning languages, travel, adventure, soccer, kung fu, martial arts, painting, drawing, etc.
Reference Letters
A reference letter is included with the 120 hour course. Read Adriel's review.
Many Schools will request 2-3 reference letters. Again, try to find related job experience to teaching and have that person (past employer or friend) write a reference for you. Most people are busy, so you can write it yourself and then show it to them later to get their approval and contact information. Regardless if you have related experience or not, find qualities in that position that can be related to teaching.
If for example you have some experience nursing, then you can point out that it's a caring profession. Caring and empathy are both important qualities in a teacher. Here are some teacher related qualities to use and emphasize like, communicative, patient, compassionate, enthusiastic, fun, exciting, adaptable, clever, responsible, organized, entertaining, charming, creative, professional, etc.
Example 1
August 09, 2004
Dear Sir or Madame:
I am writing this at the request of Will Way. He has asked me to provide this general letter that he may show to any prospective EFL/ESL employer. I have known Will as a friend and fellow artist for 11 years in my position as an Art Teacher at Leva Middle School in Las Vegas, Nevada.
I have seen his competence to communicate in English, admired his creative abilities and witnessed his flexibility to adapt to different situations and environments. I have seen him systematically organize and plan for his many art related projects. Will is a very creative, talented, and adaptable individual. I have had the pleasure of viewing his alluring artwork, watched him arrange and plan for gallery exhibitions, as well as independently create a website that captures his work as an artist.
His inner enthusiasm, multicultural interests, his ability to adapt and communicate has assisted him in his many travels, experiences and stays in foreign countries. The communication skills, worldly experience, and imagination of Mr. Way would be well suited for any ESL/EFL teaching position.
Sincerely,
Harry Hick
[email protected]
Art TeacherLeva Middle SchoolLas Vegas, Nevada USA
Example 2
December 19, 2005
Dear Sir/Madame:
My name is Jody Lee and I am a teacher at a branch of "You & Me English Schools" in Taichung, Taiwan. Our school offers classes in English to students aged 8-13 years old. Students come here to improve their conversational English, listening comprehension and grammar. Will has worked in our school as a part-time teacher for over a year.
Will is great with kids, he keeps his classes exciting while at the same time he provides an environment where the kids can learn and practice their English. His imagination, enthusiasm, ability to communicate and adapt to a foreign culture are great assets for an ESL teacher. He is a reliable worker and a likable person. I would recommend him for any ESL position. I am sure that he would be a great addition to your school. The children and I will be sad to see him go.
If you have any questions please feel free to contact me.
Sincerely,
Joy LeeESL Teacher/ManagerTaichung, Taiwan(Phone Number 0910360039)(email
[email protected]

)
Job hunting tips
Likability wins
If the school you're applying to likes you, then you will most likely win and get the job. Having better qualifications doesn't guarantee anything. Aside from having the basic qualifications, the likability factor often determines who gets the job. So how can they like you? What can you do to become more appealing? Be yourself.
You have a much greater chance of them liking you if you are authentic than if you try to act like someone who you're not. Will everyone like you? No, not everyone and if they don't move on. The likability factor will be more important if you're meeting them in person. If you're having a telephone or Skype interview then there will also be other factors at play.
Go there and look
Most teachers in Korea find jobs from home. This is good since most schools in Korea will pay your airfare over there. You can save money. Yet, it's usually better to be there (wherever you go) in person to get a job. Think about it would you rather look at a stack of resumes or hire a teacher in front of you?
There you can see the school, talk to the teachers and feel it out. Read more about how to get a good job teaching ESL.
See the big picture
Look at the whole package, don't focus on any one detail too much. "Free" housing is nice, but have you seen it? How far is it from your job? Living by the beach sounds great, but choosing a job based merely on it's location is not a recipe for success.
Use recruiters for info and maybe a job
Recruiters can be a good source of information to start off with. You can contact several for starters to find out the information that you may need on any jobs. Just remember they don't usually work at or for the school you are applying to and they have self-interest$. They act as an intermediary between the school and the teacher.
Many of them place job advertisements on some of the sites listed here. They're not all helpful, but if you don't care for one, try another. I think it's better to get a job directly through a school, but sometimes they can't be avoided.
Don't get pressured into a job
Some schools or recruiters may try to manipulate you into taking a job. They may say that there is a lot of competition, that the school needs a teacher now or that there is not enough time. There could be some truth to that, but just be aware as you don't want to get pressured into taking any job that you are not sure of.
No experience?
But I have no experience. Who will hire me? Most schools prefer experienced teachers, but having no experience isn't always a bad thing. You can tell them that you are open to training (which some schools will like) and that you are flexible. Oddly enough some schools will prefer that you don't have any experience at all, as seasoned teachers can sometimes become hardened in their ways and be difficult to work with.
Secondly there are ways to get experience and improve your resume rather quickly.
Make you resume really stand out
Upload a video of yourself to Youtube. Introduce yourself and touch on some of the qualities that you used in your resume and cover letter. Include this video with your resume when applying for jobs.
Include pictures of yourself in your resume doing any teacher related activities. Related activities such as working with children, teaching or leadership orientated activities.
Go over the top. Take a look at some of these resumes and create one that matches the job you are looking for. In this case it is teaching English overseas, so include elements of education: the classroom, children, travel (foreign lands), things already mentioned, etc.
FAQ
Do I have to speak their language?
Not at all. Most schools prefer that you don't. They will want you to speak English with your students. It does make life better and easier outside the classroom though. Read more on how to teach English abroad when you do not know the language.
Do I have to teach for one year?
Most contracts are for one year. Any school that wants you to sign a contract will pretty much expect it. But you can occasionally find exceptions to the rule. You'll be hard pressed to find an exception in Korea, unless it's part time or illegal. They are putting up a lot of money to hire you and fly you over, so they will expect you to finish the contract.
I signed a six month contract at a school in Taiwan. So it's possible if you ask, but not many schools will do that. Even if it is not a contract most schools would prefer it if the teacher stays around. The students tend to get attached to their teachers, at least if they like their teacher.
But anyways if you want to do that then you could look for part time jobs, temp jobs or summer and winter break camps. Lastly you can always do it your way and work just as long as you want and then leave. Contracts will or should say what the penalties are if you break the contract. In Korea most schools will expect you to pay back the cost of airfare if you quit before six months.
How much money do I need to bring?
It depends on the place and on a lot of factors such as whether or not you will have free housing, the comfort level that you will need, etc. Read more.
Can I teach without a degree?
Yes, you can. But you usually need a degree. The degree is for visa purposes. Read more about teaching English without a degree in Asia.
What if I am not Caucasian?
Well granted you have the basic qualifications you'll probably be fine, although you might face some discrimination. Employers have preferences which are not always fair.
How much money can I save?
Salaries in Asia can be pretty good for teachers. Aside from the salary there are sometimes benefits like free housing, airfare and more, but it depends on the country. You can save a $1000 dollars a month in each place if you're savvy. But that depends on your job and a number of other factors.
Is there FREE housing and airfare?
Korea usually offers "free" airfare and housing. Schools in China can also offer some benefits like these. Read more about free housing and airfare here.
Can I still teach in Korea if I have a criminal record?
It depends on the offense. Just having a record doesn't necessarily prohibit you from working there. Misdemeanors are usually overlooked. Many recruiters or schools will say they are looking for a "clean record", but this doesn't mean that you shouldn't apply. One police officer that I spoke with in Korea said sex and drug offenses are the ones that they take the most seriously. I would get your CBC and apply anyways unless your offense is something serious.
Should I take a TEFL/TESOL/CELTA course?
Check this page for more information on qualifications and TEFL, TESOL, and CELTA courses.
Do schools in Asia have vacations, summer and winter breaks like western schools do?
It depends on the school and on the kind of school. There are universities, international, private, and public schools. In most private schools you won't have many vacation days. If you sign a contract with one of these then you will have maybe around 10 days a year that include national holidays. There aren't usually breaks for summer or winter.
In a public school or university you might have a break for summer and winter yet many of these hold English camps at that time. In other words you still might have to work. Every school is different though and in some you might get some time off. In Eastern Asia the summer breaks are from around mid July through August. The winter break is usually around February.
Who speaks the most English?
You'll soon learn that everybody doesn't speak English in this world and that's going to bring with it some problems. Definitely make an effort learn at least some of their language. Young people tend to speak more English than older people, but it depends on how educated they are. The more educated they are the more likely that they will speak some English.
Despite the fact that Japan is the wealthiest and most developed country here, I would say that it's English is the worst. I can't say I noticed much of a difference between Taiwan, China and Korea.
Do you have any advice?
This site is infused with advice, but there is one piece in particular that we could start with. I interviewed around 30 teachers in China, Korea, Taiwan and Japan. In this video teachers share their advice.
What does TEFL, ESL, EFL, and TESOL mean?
They generally refer to the same thing. TEFL=Teaching English as a Foreign Language. ESL=English as a Second Language. EFL=English as a Foreign Language. TESOL=Teachers of English to Speakers of Other Languages. Most teachers I know refer to it as ESL.
Follow ESLinsider on Twitter for more connections and insight from other teachers in Asia.